Energy Invasion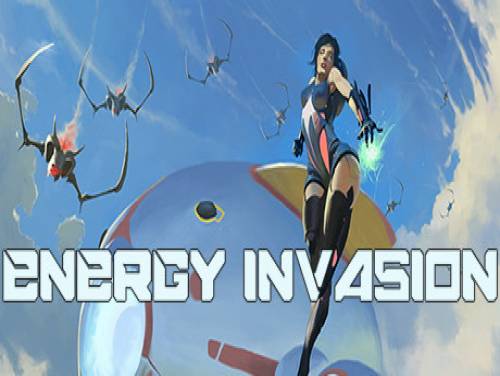 Hello, it's a pleasure to find you on our website This page shows all the cheats and codes we could find for Energy Invasion.
We hope it will help you and appreciate our work, if you have any tips to suggest, comment or contact us and we will update the page.
Discover Cheats, Cheat Codes and Tricks for Energy Invasion (PC / PS4 / SWITCH / PSVITA): Game Achievements Guide.
The cheats in our possession are valid for PC / PS4 / SWITCH / PSVITA and they should be all the valid ones since the game came out, that is 10/00/2018. We update the list of consoles every time if he adds a new one to the list.
Not enough? We also have the Solution of Energy Invasion! You can find it in the appropriate guide of Energy Invasion of this site.On the page there are one or more videos containing the various pieces of game.If you are stuck at some point in the game no way is better to consult the videos we have collected for you.
Under the cheats you will also find the List of Goals for this game with a little explanation on how to get them all.
Energy Invasion is an action game inspired by the classic Breakout. Unlike the original game, your ball does not break blocks, but can launch missiles in a direction of your choice.
After this introduction on the game, here are the cheats we have promised you.
Cheats: PSN Trophies
Perform the following tasks to earn the corresponding PSN Trophy:
Title
PSN Trophies: Energy Invasion

Energy Invasion Platinum

Energy Invasion Platinum

Good job! Completed all tasks!

Good job! Completed all tasks!

Good start

Good start

Invasion started

Invasion started

Interception

Interception

Passed level 5 in Invasion mode

Passed level 5 in Invasion mode

Intruders

Intruders

Passed level 10 in Invasion mode

Passed level 10 in Invasion mode

Maneuver

Maneuver

Passed level 15 in Invasion mode

Passed level 15 in Invasion mode

Defense

Defense

Passed level 20 in Invasion mode

Passed level 20 in Invasion mode

Salvation

Salvation

Invasion complete!

Invasion complete!

Parallelism

Parallelism

Passed level 5 in Linear mode

Passed level 5 in Linear mode

Linearity

Linearity

Passed level 10 in Linear mode

Passed level 10 in Linear mode

Direction

Direction

Passed level 15 in Linear mode

Passed level 15 in Linear mode

Strip

Strip

Passed level 20 in Linear mode

Passed level 20 in Linear mode

Persistence

Persistence

Linear mode complete!

Linear mode complete!

Origin

Origin

Passed level 5 in Endless mode

Passed level 5 in Endless mode

Tranquility

Tranquility

Passed level 10 in Endless mode

Passed level 10 in Endless mode

Diversity

Diversity

Passed level 15 in Endless mode

Passed level 15 in Endless mode

Patience

Patience

Passed level 20 in Endless mode

Passed level 20 in Endless mode

Eternal

Eternal

Passed level 25 in Endless mode

Passed level 25 in Endless mode

Infinity

Infinity

Passed level 30 in Endless mode

Passed level 30 in Endless mode

Health pack

Health pack

Got a special health pack bonus

Got a special health pack bonus
Cheats: Steam Achievements
Accomplish the following tasks to obtain the corresponding Steam Achievement:
Title
Steam Achievements: Energy Invasion

Good start

Good start

Invasion started

Invasion started

Interception

Interception

Passed level 5 in Invasion mode

Passed level 5 in Invasion mode

Now you know

Now you know

Who's in charge

Who's in charge

Intruders

Intruders

Passed level 10 in the Invasion mode

Passed level 10 in the Invasion mode

Parallelism

Parallelism

Passed level 5 in Linear fashion

Passed level 5 in Linear fashion

Origin

Origin

Passed level 5 in Endless mode

Passed level 5 in Endless mode

Linearity

Linearity

Passed level 10 in a Linear fashion

Passed level 10 in a Linear fashion

Diversity

Diversity

Passed level 15 in Endless mode

Passed level 15 in Endless mode

Infinity

Infinity

Passed level 30 in Endless mode

Passed level 30 in Endless mode

Patience

Patience

Passed level 20 in Endless mode

Passed level 20 in Endless mode

Tranquility

Tranquility

Passed level 10 in Endless mode

Passed level 10 in Endless mode

Eternal

Eternal

Passed level 25 in Endless mode

Passed level 25 in Endless mode

Persistence

Persistence

Linear mode complete!

Linear mode complete!

Maneuver

Maneuver

Passed level 15 in Invasion mode

Passed level 15 in Invasion mode

Strip

Strip

Passed level 20 in a Linear fashion

Passed level 20 in a Linear fashion

Direction

Direction

Passed level 15 in the Linear mode

Passed level 15 in the Linear mode

Salvation

Salvation

Invasion complete!

Invasion complete!

Defense

Defense

Passed level 20 in Invasion mode

Passed level 20 in Invasion mode