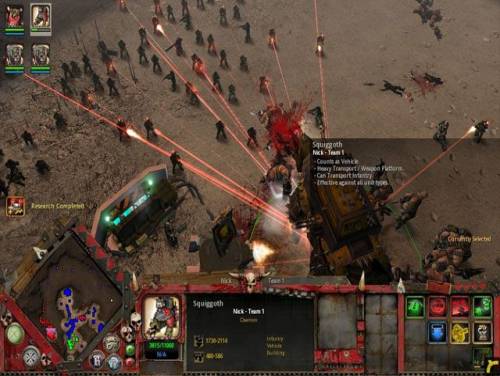 Hello, it's a pleasure to find you on our website. This page shows all the cheats and codes we found for Warhammer 40,000: Dawn of War - Soulstorm.
Do you know others? We would be very happy to receive them, so we can publish them on the site by updating this article.
The third and final expansion of the strategy game in real-time acclaimed by critics and has redefined the standards of the genre, Dawn of War. In Soulstorm introduces two new armies: the Sisters of the Warriors and the Eldar the dark. The total number of armies playable, and then, to nine. The meta revolutionary first introduced in Dark Crusade is further extended to a scale interplanetary, allowing players to battle throughout the star system.
This game was released on 05/03/2008 and the cheats we own are valid for PC. This list will be updated over time whenever we notice the existence of new consoles on which Warhammer 40,000: Dawn of War - Soulstorm has been published.
Discover cheats and cheat codes for Warhammer 40,000: Dawn of War - Soulstorm (PC): Control Enemy Units and Steal Technology from Other Races (MEGA ARMY).
For this game we also have the promo trainer! A trainer is a software that allows you to unlock a lot of cheats.
Finished all the premises, we show you the cheats we have recovered.