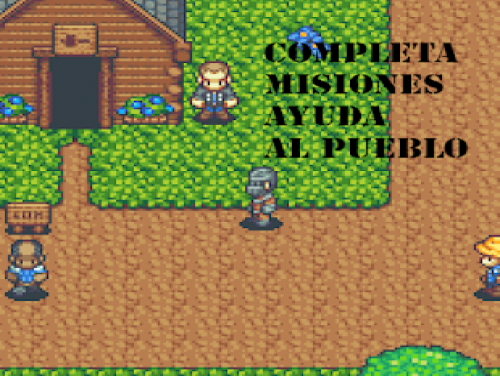 Hello and welcome to Apocanow, we present you the article about the cheats and codes of Doken. El resurgir de Loktarnu.. We hope it will be useful and allow you to improve your videogame experience.
They might not be all! If you have found something new please contact us and we will be happy to add your contents to the existing one.
Enjoy an authentic classic RPG. Many hours of play and multiple endings. Dive into a classic RPG adventure. From the beginning, each decision you make leads you to a different ending. Citizens will be more or less friendly depending on the faction you support, if you decide to help one. 70 hours of play, which can be extended by exploring the different endings. -In each town you have the option to refuse aid to the Clergy. If you say no, a Brotherhood member will appear nearby to give you the option to help and contribute to The Brotherhood. -If you don't help either faction, there is a neutral alternative that will take you another way. Complete missions of all classic RPG styles: -Harvest. Different characters will ask you for help to collect different objects. -Timer timers. There are missions in which you will have a time to get help the character. If you run out of time you will not have another chance. -Finish with enemies. From normal enemies to final bosses on each map. Each enemy has a chance to give you an item that will be useful to you in the game. Gain experience and gold by beating them. -Get allies. Some characters will ask you for help. If you provide it, they will join your group and fight alongside you, facilitating battles. Combat mode in true RPG style, taking turns using magic and skills. You will have different animations such as poisoning, healing, confusion ... Every 5 levels you will get a new magic / ability for your character. A crafting system: -The blacksmith will help you in each of the towns to create weapons and armor with the materials you get from the enemies. A system for buying / selling objects: -In each town you will find a store where you can buy or sell objects. Potions, antidotes ... are essential in these stores. -There are elixir vendors scattered around the maps. With these elixirs you will get permanent improvements for your characters such as agility, strength, health ... Maps: -From villages, only collection maps, labyrinth, caves, castle, dungeons ... There are over 60 different battles, boss bosses, and more!


Doken. El resurgir de Loktarnu. has been published on 04/05/2021 for ANDROID / IPHONE. We take care to update the list of consoles for which the game was published over time if the cheats are they also applied to new arrivals.
Discover cheats and cheat codes for Doken. El resurgir de Loktarnu. (ANDROID / IPHONE): Useful Tips.
After this introduction on the game, here are the cheats we have promised you.