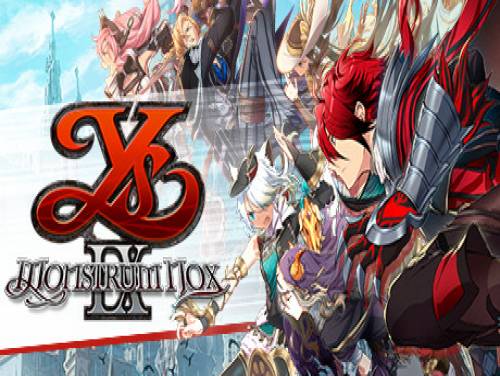 Welcome to Apocanow! This article talks about cheats and codes for Ys IX: Monstrum Nox and collects in it all the videogames materials regarding this game. For example: trainers, achievements and a walkthrough.
If you know other unlockables or strategies, do not hesitate to contact us, you will make it more complete and more useful to all its visitors.
Renowned adventurer Adol "the Red" Christin and his companion Dogi arrive at Balduq, a city annexed by the Romun Empire, only for Adol to be detained before setting foot inside. While imprisoned, he meets a mysterious woman named Aprilis who turns him into a Monstrum, a being with supernatural Gifts and the power to exorcise monsters. Now, Adol must ally with his fellow Monstrums to fend off the fearsome threats emerging from a shadowy dimension called the Grimwald Nox, as well as unravel the mysteries of the Monstrum curse, and the truth behind the unrest within Balduq.
Our cheats can be used with the following consoles: PC / PS4 / SWITCH. This list is constantly updated from PC / PS4 / SWITCH or since the game came out.
Discover cheats and cheat codes for Ys IX: Monstrum Nox (PC / PS4 / SWITCH).
For this game we also have the promo trainer! A trainer is a software that allows you to unlock a lot of cheats.
Under the cheats you will also find the list of achievements for this game with a little explanation on how to get them all.
And now here is finally the long-awaited cheats for this game.