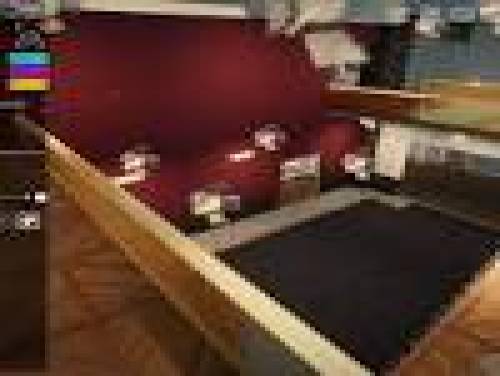 We are pleased to show you all the things we have collected for Severed Steel!
If you know other cheats, suggest them by contacting us and we will be happy to publish them here on this article.
A stylish and visceral single-player FPS featuring a fluid stunt system, destructible voxel environments, loads of bullet time, a unique one-armed protagonist, and a dark electronic soundtrack.
All information on the cheats contained in this article is valid from 07/22/2022. The list is updated every time the game is published for a new one console.
Discover cheats and cheat codes for Severed Steel (PC / PS4 / PS5 / SWITCH / XBOX ONE / XSX): Useful Tips.
We have also collected for you the list of achievements with alongside a small explanation translated on how to get them.
And now here is finally the long-awaited cheats for this game.
Cheats: Steam Achievements
Accomplish the following tasks to obtain the corresponding Steam Achievement:
Title
Steam Achievements: Severed Steel

? FINISHED CHAPTER 1

? FINISHED CHAPTER 1

? FINISHED CHAPTER 1

? FINISHED CHAPTER 1

? 50 HEADSHOTS

? 50 HEADSHOTS

? GOT 50 HEADSHOTS

? GOT 50 HEADSHOTS

? 100 KILLS

? 100 KILLS

? GOT 100 KILLS

? GOT 100 KILLS

? FINISHED CHAPTER 2

? FINISHED CHAPTER 2

? FINISHED CHAPTER 2

? FINISHED CHAPTER 2

? FINISHED CHAPTER 3

? FINISHED CHAPTER 3

? FINISHED CHAPTER 3

? FINISHED CHAPTER 3

? FINISHED CHAPTER 4

? FINISHED CHAPTER 4

? FINISHED CHAPTER 4

? FINISHED CHAPTER 4

? FINISH CHAPTER 5

? FINISH CHAPTER 5

? FINISH CHAPTER 5

? FINISH CHAPTER 5

? FINISH CHAPTER 6

? FINISH CHAPTER 6

? FINISH CHAPTER 6

? FINISH CHAPTER 6

? 200 HEADSHOTS

? 200 HEADSHOTS

? GOT 200 HEADSHOTS

? GOT 200 HEADSHOTS

? SCIENCE AND INDUSTRY

? SCIENCE AND INDUSTRY

? COMPLETE THE RandD AND PRODUCTION LAB LEVELS IN CAMPAIGN MODE CHAPTER 1

? COMPLETE THE RandD AND PRODUCTION LAB LEVELS IN CAMPAIGN MODE CHAPTER 1

? FIREFIGHT LEVEL 10

? FIREFIGHT LEVEL 10

? FIREFIGHT LEVEL 10

? FIREFIGHT LEVEL 10

? 1000 KILLS

? 1000 KILLS

? GOT 1000 KILLS

? GOT 1000 KILLS

? CATHARTIC ESCAPISM

? CATHARTIC ESCAPISM

? BEAT THE ESCAPISM CAMPAIGN LEVEL

? BEAT THE ESCAPISM CAMPAIGN LEVEL

? FIREFIGHT LEVEL 20

? FIREFIGHT LEVEL 20

? FIREFIGHT LEVEL 20

? FIREFIGHT LEVEL 20

? FIREFIGHT LEVEL 30

? FIREFIGHT LEVEL 30

? FIREFIGHT LEVEL 30

? FIREFIGHT LEVEL 30

? FIREFIGHT LEVEL 40

? FIREFIGHT LEVEL 40

? FIREFIGHT LEVEL 40

? FIREFIGHT LEVEL 40

? FIREFIGHT LEVEL 50

? FIREFIGHT LEVEL 50

? FIREFIGHT LEVEL 50

? FIREFIGHT LEVEL 50

? TIME PARADOX

? TIME PARADOX

? COMPLETE CYBERMEDICINE CAMPAIGN LEVEL WITH AN ARM CANNON EQUIPPED.

? COMPLETE CYBERMEDICINE CAMPAIGN LEVEL WITH AN ARM CANNON EQUIPPED.

? FIREFIGHT LEVEL 60

? FIREFIGHT LEVEL 60

? FIREFIGHT LEVEL 60

? FIREFIGHT LEVEL 60

? NEW GAME PLUS

? NEW GAME PLUS

? COMPLETED A NEW GAME PLUS CAMPAIGN

? COMPLETED A NEW GAME PLUS CAMPAIGN

? PACEMAKER

? PACEMAKER

? DESTROY THE HEART WITHIN 60 SECONDS OF BRINGING ITS SHIELD DOWN.

? DESTROY THE HEART WITHIN 60 SECONDS OF BRINGING ITS SHIELD DOWN.

? FIREFIGHT LEVEL 70

? FIREFIGHT LEVEL 70

? FIREFIGHT LEVEL 70

? FIREFIGHT LEVEL 70

? OUT OF ORDER

? OUT OF ORDER

? BEAT THE MIDDLE ADMIN CAMPAIGN LEVEL WITHOUT USING THE STAIRS.

? BEAT THE MIDDLE ADMIN CAMPAIGN LEVEL WITHOUT USING THE STAIRS.

? REMEMBER THE ARMORY

? REMEMBER THE ARMORY

? BEAT THE ARMORY CAMPAIGN LEVEL IN NEW GAME + MODE DEFEATING EVERY ENEMY BEFORE LEAVING THE LEVEL

? BEAT THE ARMORY CAMPAIGN LEVEL IN NEW GAME + MODE DEFEATING EVERY ENEMY BEFORE LEAVING THE LEVEL

? OFF THE HINGES

? OFF THE HINGES

? BEAT THE CORRIDOR CAMPAIGN LEVEL WHILE EQUIPPED WITH THE GRAVITY ARM CANNON.

? BEAT THE CORRIDOR CAMPAIGN LEVEL WHILE EQUIPPED WITH THE GRAVITY ARM CANNON.

? FIREFIGHT LEVEL 80

? FIREFIGHT LEVEL 80

? FIREFIGHT LEVEL 80

? FIREFIGHT LEVEL 80

? HEY THATS CHEATING

? HEY THATS CHEATING

? BEAT THE ADMIN VENTS CAMPAIGN LEVEL WITHOUT ACTIVATING ANY OF THE FAN SWITCHES.

? BEAT THE ADMIN VENTS CAMPAIGN LEVEL WITHOUT ACTIVATING ANY OF THE FAN SWITCHES.

? OVERCLOCKED

? OVERCLOCKED

? BEAT THE SERVER ROOM CAMPAIGN LEVEL WITH THE FLOOR IS LAVA MUTATOR

? BEAT THE SERVER ROOM CAMPAIGN LEVEL WITH THE FLOOR IS LAVA MUTATOR

? SAVOR THE MOMENT

? SAVOR THE MOMENT

? BEAT THE MUSEUM CAMPAIGN LEVEL WITH THE LIMITED SLOW-MO MUTATOR

? BEAT THE MUSEUM CAMPAIGN LEVEL WITH THE LIMITED SLOW-MO MUTATOR

? HUGE SUCCESS

? HUGE SUCCESS

? BEAT THE PORTAL LABS CAMPAIGN LEVEL WITH THE ONE IN THE CHAMBER MUTATOR

? BEAT THE PORTAL LABS CAMPAIGN LEVEL WITH THE ONE IN THE CHAMBER MUTATOR

? FIRE IN THE HOLE

? FIRE IN THE HOLE

? BEAT THE GREENS CAMPAIGN LEVEL WITH THE FLOOR IS LAVA MUTATOR

? BEAT THE GREENS CAMPAIGN LEVEL WITH THE FLOOR IS LAVA MUTATOR

? BUT WHY?

? BUT WHY?

? KILL ALL ENEMIES IN PRODUCTION LAB BEFORE DESTROYING ANY OBJECTIVES.

? KILL ALL ENEMIES IN PRODUCTION LAB BEFORE DESTROYING ANY OBJECTIVES.

? PAIN TRAIN

? PAIN TRAIN

? BEAT THE TRAIN STATION CAMPAIGN LEVEL DEFEATING EVERY ENEMY BEFORE BOARDING THE TRAIN.

? BEAT THE TRAIN STATION CAMPAIGN LEVEL DEFEATING EVERY ENEMY BEFORE BOARDING THE TRAIN.

? HOLOGRAM SUMMER

? HOLOGRAM SUMMER

? COMPLETE THE CITY LEVEL IN CAMPAIGN MODE WITH META CANNON EQUIPPED.

? COMPLETE THE CITY LEVEL IN CAMPAIGN MODE WITH META CANNON EQUIPPED.

? COMPLIMENTS TO THE CHEF

? COMPLIMENTS TO THE CHEF

? BEAT THE CAFETERIA CAMPAIGN LEVEL IN NEW GAME + MODE WITH THE WARRIOR MONK MUTATOR

? BEAT THE CAFETERIA CAMPAIGN LEVEL IN NEW GAME + MODE WITH THE WARRIOR MONK MUTATOR

? WARRIOR IN A GARDEN

? WARRIOR IN A GARDEN

? BEAT THE GARDENS CAMPAIGN LEVEL WITH THE WARRIOR MONK MUTATOR AND DEFEATING EVERY ENEMY

? BEAT THE GARDENS CAMPAIGN LEVEL WITH THE WARRIOR MONK MUTATOR AND DEFEATING EVERY ENEMY
Latest sheats and sheat sodes added