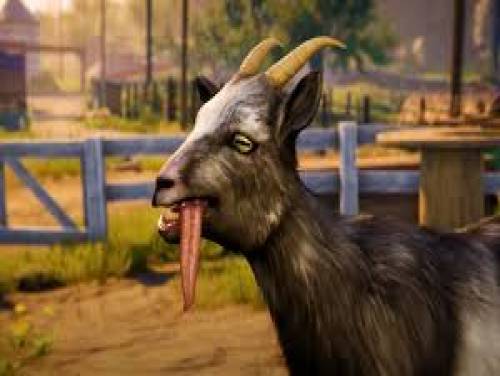 We are pleased to present you this article dedicated to the cheats and codes of Goat Simulator 3. Here you will find all the resources that our staff found on Goat Simulator 3. You can also find trainers and achievements.
They might not be all! If you have found something new please contact us and we will be happy to add your contents to the existing one.
This follow up to 2014's Goat Simulator starts an all-new adventure, once again featuring Pilgor the goat. This time she's found new pastures on the sprawling sandbox island of San Angora, a place where mysteries and chaos follow wherever you go. Players are free to roam around and discover the island's secrets or, well, just destroy stuff. This is a Goat Simulator, after all. Built from the gravel up, this next generation of goat simulation has it all; Goats, goats wearing hats, goats riding a goat wearing a hat. There are also unnatural disasters, secret animal societies, triple jumping and probably any other nonsense you could think up. But truly, what is all this exciting newness without friends to explore it with? In Goat Simulator 3, you can gather as a herd of up to 4 friends to be the goats of your dreams, together. Yes, Goat Simulator 3 has online multiplayer!
We have cheats valid for PC / PS5 / XSX. The list of consoles is continuously updated from PC / PS5 / XSX, the date on which Goat Simulator 3 was published.
Discover cheats and cheat codes for Goat Simulator 3 (PC / PS5 / XSX): Super jump and game speed.
We have also found a Trainer for this game. This software allows you to add cheats to the game that you could not get in any other way.
After this introduction on the game, here are the cheats we have promised you.