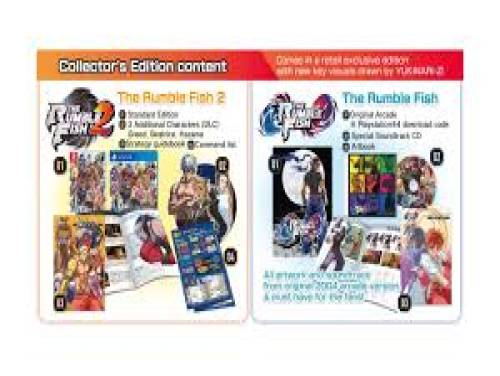 Welcome to the article on this site associated with the cheats and unlockables of The Rumble Fish 2. All the secrets we know about this game are written on this page.
If you know other unlockables or strategies, do not hesitate to contact us, you will make it more complete and more useful to all its visitors.
As a faithful port of the original game developed for the Atomiswave arcade platform in 2005, The Rumble Fish 2 features all of the hard-hitting 2D fighting game action that endeared so many players to the game in arcades over 15 years ago. This includes an eclectic cast of characters armed with wild, flashy techniques whose visuals are powered by the game's unique "Smooth Model Animation" system, allowing for exceptionally gorgeous 2D sprite animation on a per-limb basis. The Rumble Fish 2 will also bring a host of new enhancements and features aimed at hardcore fighting game fans. In addition to a widescreen, 16:9 presentation modernizing the game's gorgeous graphics and animation, players can hone their skills in the all-new Practice Mode before testing their mettle against rivals all around the world in online player-versus-player battles powered by rollback netcode—a feature considered absolutely essential by top fighting game players.
The Rumble Fish 2 has been published on 12/22/2022 for PC / PS4 / PS5 / SWITCH / XBOX ONE / XSX. We take care to update the list of consoles for which the game was published over time if the cheats are they also applied to new arrivals.
Discover cheats and cheat codes for The Rumble Fish 2 (PC / PS4 / PS5 / SWITCH / XBOX ONE / XSX): Useful Tips.
For you we have also made available the list of achievements of this game with an explanation on how to unlock them.
After this introduction on the game, here are the cheats we have promised you.