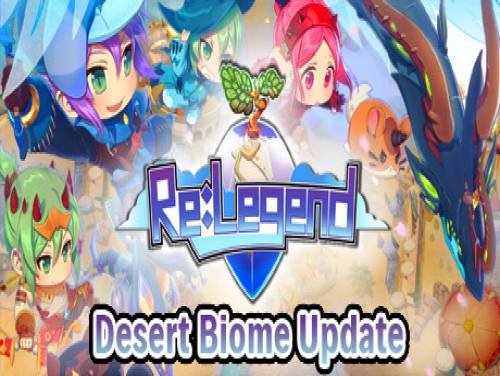 We are happy to show you the ReLegend trainer and the guide to its use!
The guide may not be 100% complete! If you have found something we don't have contact us. We will be happy to update this article with what you have sent us.
We also have cheats for ReLegend! In our ReLegend cheats page you will find codes and unlockable to overcome all obstacles and arrive without any worries at the end of the game.
Adventure with friends in a wonderful world full of wonders and fantastic creatures. Build, create, grow, fishing, and breeds, and breeds fantastic companions company!
After this introduction to the game, here is the trainer we promised you. You can see the guide and download the trainer on your PC.
Download Trainer
This trainer adds the following cheats to this game:
Infinite Health
Infinite Stamina
Change EXP
Change Stat Points
Fast Running Speed
Increased Distance Roll
Change Gold
Easy Taming
Super Speed
Freeze Time Of Day
Fast Time Of Day
Unlimited Item Quantiity
Change Item Quantity
Free Crafting
Easy Crafting
Edit: EXP
Edit: Level
Edit: Stat Points
Edit: Base STR
Edit: Base INT
Edit: Base END
Edit: Base LUK
Edit: Base FOC
Edit: Base WIS
Edit: Crit Damage Multiplier
Edit: Base HP
Edit: Base Stamina
Edit: Base EXP
Edit: Gold
Edit: Quantity




Respect of the Copyright

The software you are about to download was not created by Apocanow. However, we have permission to publish and publicize by its authors ReLegend: Trainer - 16.3.10. The file you are about to download is virus free, even if sometimes your antivirus can trigger for a false positive.
Activating this trainer
If not state otherwise below, press F1 at main menu.
Listen for 'Trainer Activated'.
Press desired hotkey. All hotkeys can be changed on the trainer.
Promo Options
NumPad1: Infinite Health
NumPad2: Infinite Stamina
NumPad5: Fast Running Speed
NumPad9: Super Speed
Multiply: Freeze Time Of Day
Add: Fast Time Of Day
Trainer Options
# Player
NumPad1: Infinite Health
NumPad2: Infinite Stamina
NumPad3: Change EXP
NumPad4: Change Stat Points
NumPad5: Fast Running Speed
NumPad6: Increased Distance Roll
NumPad7: Change Gold
# Misc
NumPad8: Easy Taming
NumPad9: Super Speed
# Time
Multiply: Freeze Time Of Day
Add: Fast Time Of Day
# Items
Subtract: Unlimited Item Quantiity
Decimal: Change Item Quantity
# Crafting
Divide: Free Crafting
F1: Easy Crafting
Editor Options
# Player
EXP
Level
Stat Points
Base STR
Base INT
Base END
Base LUK
Base FOC
Base WIS
Crit Damage Multiplier
Base HP
Base Stamina
Base EXP
Gold
# Selected Item
Quantity
Notes
Fast Running Speed:
While active you run much faster. Speed can be customized after trainer activation.