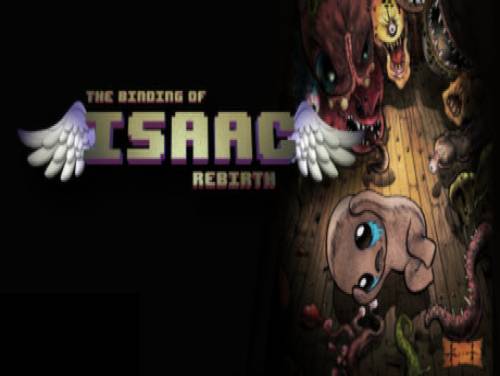 Welcome to the Binding Of Isaac, The: Rebirth trainer page. You will surely be satisfied with the material we found, as this is a site completely dedicated to trainers and cheats of video games.
If you have managed to find other items to be added, do not hesitate to send them in. We will add them to those already existing.
Wwe also have cheats for Binding Of Isaac, The: Rebirth! You can find them in the appropriate Binding Of Isaac, The: Rebirth cheats page. Inside there are paragraphs about cheats and unlockables relative to the game. If you are stuck somewhere in the game, or if you just want have more fun out of the rules, no way is better than consulting the cheats we have collected for you.
The Binding of Isaac: Rebirth is a randomly generated action RPG shooter with heavy Rogue-like elements.RiprovaFollowing Isaac on his journey, players will find bizarre treasures that change Isaac's form by giving him super human abilities and allowing him to battle throngs of mysterious creatures, uncover secrets and fight for his salvation.Riprova
Thank you for reading this brief introduction. Now let's show you the guide to the trainer and the button to download it.
Download Trainer
This trainer adds the following cheats to this game:
Invincible
Reset Level Timer
Give 99 of Each Item
Golden Keys and Bombs
Set Max Hearts
Set Max Soul Hearts
Set Max Black Hearts
Set Max Golden Hearts
Super Deadly Ammo
Edit: Max Hearts Life
Edit: Current Hearts Life
Edit: Soul Hearts
Edit: Black Hearts
Edit: Golden Hearts
Edit: Golden Keys
Edit: Golden Bombs
Edit: Bullet Speed
Edit: Tears Ammo Size
Edit: Keys
Edit: Bombs
Edit: Coins
Edit: Bonus Score




Respect of the Copyright

The software you are about to download was not created by Apocanow. However, we have permission to publish and publicize by its authors Binding Of Isaac, The: Rebirth: Trainer - (PATCH 04.08.2021) + Repentanc. The file you are about to download is virus free, even if sometimes your antivirus can trigger for a false positive.
Activating this trainer
If not state otherwise below, press F1 at main menu.
Listen for 'Trainer Activated'.
Press desired hotkey. All hotkeys can be changed on the trainer.
Promo Options
Isaac Stats: Golden Keys
Isaac Stats: Bullet Speed
Score: Bonus Score
Trainer Options
# Isaac
NumPad1: Invincible
# Level
NumPad2: Reset Level Timer
# Inventory
NumPad3: Give 99 of Each Item
NumPad4: Golden Keys and Bombs
# Hearts
NumPad5: Set Max Hearts
NumPad6: Set Max Soul Hearts
NumPad7: Set Max Black Hearts
NumPad8: Set Max Golden Hearts
# Weapons
NumPad9: Super Deadly Ammo
Editor Options
# Isaac Stats
Max Hearts Life
Current Hearts Life
Soul Hearts
Black Hearts
Golden Hearts
Golden Keys
Golden Bombs
Bullet Speed
Tears Ammo Size
# Inventory
Keys
Bombs
Coins
# Score
Bonus Score