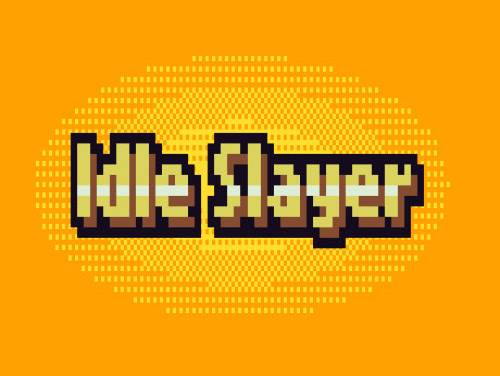 Welcome to our website. you are into the Idle Slayer trainer page. Without too many premises let's describe this article!
Are you able to improve this guide? We would be really happy to know how, so we can create a better article, updating it with your advices.
Do you want to get out of the box? We have cheats for Idle Slayer. See the Idle Slayer cheats page. You will find all the cheats,cheat codes, unlockables and objectives with the explanation on how to overcome them.
Idle Slayer is an incremental game with idle and active playstyle mechanics, medieval pixel art visuals and retro 8-bit sounds and music.
Once all the premises have been completed, we will show you the promo trainer we have recovered and the guide written specifically for us by the authors of the program.
Download Trainer
This trainer adds the following cheats to this game:
Game Speed
Edit: ascensions
Edit: coins
Edit: lifetimeCoins
Edit: CoinsPerSecond
Edit: coinValueMultiplier
Edit: coinsRecord
Edit: currentAscensionCoinsRecord
Edit: currentAscensionEnemiesSlayed
Edit: coinsPickedUp
Edit: rubiesPickedUp
Edit: sapphiresPickedUp
Edit: emeraldsPickedUp
Edit: cpsPercentagePerDay
Edit: randomEventsTimeModifier
Edit: soulsBonusEventMultiplier
Edit: paidSoulsMultiplier
Edit: soulsBonusMultiplier
Edit: secondsToSlayEnemiesWhileIdle
Edit: randomBoxes
Edit: specialRandomBoxChance
Edit: daysPassedSinceStarted
Edit: daysPassedSinceStartedCapped
Edit: portals
Edit: boostsAmount
Edit: adsWatched
Edit: rubyChance
Edit: sapphireChance
Edit: emeraldChance
Edit: enemiesSlayed
Edit: enemiesSlayedWhileIdle
Edit: enemiesSlayedWithArrows
Edit: boostMaxSpeedBonus
Edit: questionBlockChanceBonus
Edit: enemySpawnChanceBonus
Edit: coinSpawnChanceBonus
Edit: cpsEventMultiplier
Edit: paidCpsMultiplier
Edit: cpsEventBonus
Edit: achievementMultiplier
Edit: ascensionCpsMultiplier
Edit: arrowShootingSpeed
Edit: minionsQuests
Edit: minionsTimeBonus
Edit: gemstoneAdditionalChance
Edit: gemBonusStageAdditionalChance
Edit: magnetPowerModifier
Edit: bonusStageSectionsCompleted
Edit: bonusStageCompleted
Edit: criticalGatherChance
Edit: criticalGatherYield
Edit: divinityPoints
Edit: decreaseRandomBoxCoinsChances
Edit: dropChance
Edit: swordDamage
Edit: giantsChanceModifier
Edit: silverRandomBoxesAmount
Edit: equipmentCpSBonusModifier
Edit: ultraAscensions
Edit: ascensionUpgradesBought
Edit: giantsInstantKillChance




Respect of the Copyright

The software you are about to download was not created by Apocanow. However, we have permission to publish and publicize by its authors Idle Slayer: Trainer - v3.2.2 (STEAM). The file you are about to download is virus free, even if sometimes your antivirus can trigger for a false positive.
Activating this trainer
If not state otherwise below, press F1 at main menu.
Listen for 'Trainer Activated'.
Press desired hotkey. All hotkeys can be changed on the trainer.
Promo Options
NumPad1: Game Speed
Trainer Options
# Gameplay
NumPad1: Game Speed
Editor Options
# Stats
ascensions
coins
lifetimeCoins
CoinsPerSecond
coinValueMultiplier
coinsRecord
currentAscensionCoinsRecord
currentAscensionEnemiesSlayed
coinsPickedUp
rubiesPickedUp
sapphiresPickedUp
emeraldsPickedUp
cpsPercentagePerDay
randomEventsTimeModifier
soulsBonusEventMultiplier
paidSoulsMultiplier
soulsBonusMultiplier
secondsToSlayEnemiesWhileIdle
randomBoxes
specialRandomBoxChance
daysPassedSinceStarted
daysPassedSinceStartedCapped
portals
boostsAmount
adsWatched
rubyChance
sapphireChance
emeraldChance
enemiesSlayed
enemiesSlayedWhileIdle
enemiesSlayedWithArrows
boostMaxSpeedBonus
questionBlockChanceBonus
enemySpawnChanceBonus
coinSpawnChanceBonus
cpsEventMultiplier
paidCpsMultiplier
cpsEventBonus
achievementMultiplier
ascensionCpsMultiplier
arrowShootingSpeed
minionsQuests
minionsTimeBonus
gemstoneAdditionalChance
gemBonusStageAdditionalChance
magnetPowerModifier
bonusStageSectionsCompleted
bonusStageCompleted
criticalGatherChance
criticalGatherYield
divinityPoints
decreaseRandomBoxCoinsChances
dropChance
swordDamage
giantsChanceModifier
silverRandomBoxesAmount
equipmentCpSBonusModifier
ultraAscensions
ascensionUpgradesBought
giantsInstantKillChance