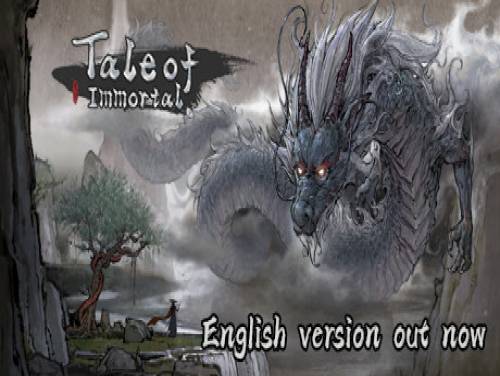 Hello and welcome to Apocanow, we present the article about the Trainer of Tale of Immortal. We hope it will allow you to improve your experience with this game.
Are you aware of anything else regarding this trainer or have any other material? Send it without any problems! We will be happy to update this guide with the material you send us!
For Tale of Immortal we also have cheats available. You will find a collection of cheat codes and unlockables that will allow you to overcome any obstacle on the Tale of Immortal cheats page.
And now, finally, the long-awaited trainer for this game: download it, and after reading the user guide, activate it and you will be able to use all the cheats promised while playing.
Download Trainer
This trainer adds the following cheats to this game:
Unlimited Health
Unlimited Energy
Unlimited Focus
Easy Craft Upgrade Unlock
Game Speed
Edit: Health (Player Combat)
Edit: Health (Player Stats)
Edit: Energy (Player Combat)
Edit: Energy (Player Stats)
Edit: Focus (Player Combat)
Edit: Focus (Player Stats)
Edit: Spirit Stones
Edit: Amount of Item
Edit: Age
Edit: Lifespan
Edit: Charisma
Edit: Righteous
Edit: Demonic
Edit: Reputation
Edit: Realm XP
Edit: Realm Level
Edit: Doctrine 1
Edit: Doctrine 2
Edit: Doctrine 3
Edit: Skill Point
Edit: Knowledge
Edit: Knowledge Level
Edit: Perception
Edit: Max Health
Edit: Vitality
Edit: Max Vitality
Edit: Max Energy
Edit: Max Focus
Edit: Attack
Edit: Defense
Edit: Travel Speed
Edit: Luck
Edit: Stamina
Edit: Max Stamina
Edit: Crit
Edit: Crit Damage
Edit: Crit RES
Edit: Crit DR
Edit: Agility
Edit: Martial RES
Edit: Spiritual RES
Edit: Fire Root
Edit: Water Root
Edit: Lightning Root
Edit: Wind Root
Edit: Earth Root
Edit: Wood Root
Edit: Sword
Edit: Spear
Edit: Blade
Edit: Fist
Edit: Palm
Edit: Finger
Edit: Alchemy
Edit: Forge
Edit: Feng Shui
Edit: Incantation
Edit: Herb
Edit: Ore
Edit: Mood
Edit: Max Mood




Respect of the Copyright

The software you are about to download was not created by Apocanow. However, we have permission to publish and publicize by its authors Tale of Immortal: Trainer - v0.8.3021.278. The file you are about to download is virus free, even if sometimes your antivirus can trigger for a false positive.
Activating this trainer
If not state otherwise below, press F1 at main menu.
Listen for 'Trainer Activated'.
Press desired hotkey. All hotkeys can be changed on the trainer.
Promo Options
NumPad3: Unlimited Focus
NumPad5: Game Speed
Player Combat: Focus
Player Stats: Doctrine 1
Player Stats: Max Focus
Player Stats: Travel Speed
Player Stats: Max Mood
Trainer Options
# Player
NumPad1: Unlimited Health
NumPad2: Unlimited Energy
NumPad3: Unlimited Focus
# Upgrades
NumPad4: Easy Craft Upgrade Unlock
# Gameplay
NumPad5: Game Speed
Editor Options
# Player Combat
Health
Energy
Focus
# Currency
Spirit Stones
# Mouse over Inventory
Amount of Item
# Player Stats
Age
Lifespan
Charisma
Righteous
Demonic
Reputation
Realm XP
Realm Level
Doctrine 1
Doctrine 2
Doctrine 3
Skill Point
Knowledge
Knowledge Level
Perception
Health
Max Health
Vitality
Max Vitality
Energy
Max Energy
Focus
Max Focus
Attack
Defense
Travel Speed
Luck
Stamina
Max Stamina
Crit
Crit Damage
Crit RES
Crit DR
Agility
Martial RES
Spiritual RES
Fire Root
Water Root
Lightning Root
Wind Root
Earth Root
Wood Root
Sword
Spear
Blade
Fist
Palm
Finger
Alchemy
Forge
Feng Shui
Incantation
Herb
Ore
Mood
Max Mood