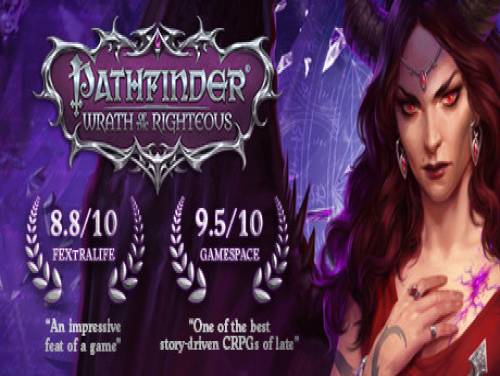 Hello and welcome to Apocanow, we present the article about the Trainer of Pathfinder: Wrath of the Righteous. We hope it will allow you to improve your experience with this game.
Are you aware of anything else regarding this trainer or have any other material? Send it without any problems! We will be happy to update this guide with the material you send us!
In the following Pathfinder: Wrath of the Righteous cheats page you will be able to see all the cheats and codes we managed to collect for this game. Thanks to them you will be able to overcome any difficulty, even at the cost of cheating a little.
Embark on a journey to a realm overrun by demons in an epic RPG from the creators of the critically acclaimed Pathfinder: Kingmaker. Explore the nature of good and evil, learn the true cost of power, and rise as a Mythic Hero capable of deeds beyond mortal expectations.
Once all the premises have been completed, we will show you the promo trainer we have recovered and the guide written specifically for us by the authors of the program.
Download Trainer
This trainer adds the following cheats to this game:
Infinite Health
One Hit Kills
Never Encumbered
Unlimited Spell Uses
Unlimited Item Usage
No Ability Costs
Change Gold
Super Speed
No Fog Of War
Freeze Time Of Day
Bypass Alignment Checks Dialogue
Instant Project
Set Kingdom Stat
Instant Kingdom Build
Edit: Gold
Edit: Level
Edit: Mythic Level
Edit: Mythic EXP
Edit: EXP
Edit: Charisma
Edit: Dexterity
Edit: Constitution
Edit: Intelligence
Edit: Wisdom
Edit: Strength
Edit: Mobility
Edit: Athletics
Edit: Perception
Edit: Thievery
Edit: Persuasion
Edit: Stealth
Edit: Use Magic Device
Edit: Knowledge Arcana
Edit: Knowledge World
Edit: Lore Nature
Edit: Lore Religion




Respect of the Copyright

The software you are about to download was not created by Apocanow. However, we have permission to publish and publicize by its authors Pathfinder: Wrath of the Righteous: Trainer - 1.0.8e. The file you are about to download is virus free, even if sometimes your antivirus can trigger for a false positive.
Activating this trainer
If not state otherwise below, press F1 at main menu.
Listen for 'Trainer Activated'.
Press desired hotkey. All hotkeys can be changed on the trainer.
Promo Options
NumPad7: Change Gold
NumPad8: Super Speed
Player: Gold
Trainer Options
# Player
NumPad1: Infinite Health
NumPad2: One Hit Kills
NumPad3: Never Encumbered
NumPad4: Unlimited Spell Uses
NumPad5: Unlimited Item Usage
NumPad6: No Ability Costs
NumPad7: Change Gold
# Misc
NumPad8: Super Speed
NumPad9: No Fog Of War
Multiply: Freeze Time Of Day
Add: Bypass Alignment Checks Dialogue
# Kingdom
Subtract: Instant Project
Decimal: Set Kingdom Stat
Divide: Instant Kingdom Build
Editor Options
# Player
Gold
# Selected Unit
Level
Mythic Level
Mythic EXP
EXP
# Selected Unit Stats
Charisma
Dexterity
Constitution
Intelligence
Wisdom
Strength
# Selected Unit Skills
Mobility
Athletics
Perception
Thievery
Persuasion
Stealth
Use Magic Device
Knowledge Arcana
Knowledge World
Lore Nature
Lore Religion