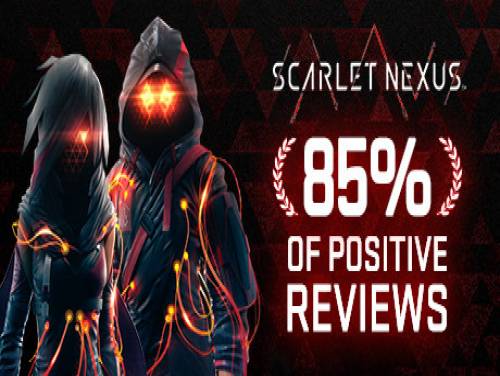 Welcome to our website. you are into the Scarlet Nexus trainer page. Without too many premises let's describe this article!
Are you aware of anything else regarding this trainer or have any other material? Send it without any problems! We will be happy to update this guide with the material you send us!
In the following Scarlet Nexus cheats page you will be able to see all the cheats and codes we managed to collect for this game. Thanks to them you will be able to overcome any difficulty, even at the cost of cheating a little.
Scarlet Nexus takes place in the far distant future, where a psionic hormone was discovered in the human brain, granting people extra-sensory powers and changed the world as we knew it. As humanity entered this new era, deranged mutants known as Others began to descend from the sky with a hunger for human brains. Impervious to conventional weapons, those with acute extra-sensory abilities, known as psionics, were our only chance to fight the onslaught from above and preserve humanity. Since then, psionics have been scouted for their talents and recruited to the Other Suppression Force, humanity's last line of defense. In Scarlet Nexus, players will take on the role of Yuito Sumeragi, armed with a talent in psycho-kinesis, and explore the futuristic city of New Himuka and uncover the mysteries of a Brain Punk future caught between technology and physic abilities. With these psycho-kinetic powers, the world becomes an important ally. Lift, break, and hurl pieces of the environment to build attack combos and lay waste to enemies.
And now, finally, the long-awaited trainer for this game: download it, and after reading the user guide, activate it and you will be able to use all the cheats promised while playing.
Download Trainer
This trainer adds the following cheats to this game:
Unlimited Health
Unlimited PsychoKinesis
Super Damage
Enemies Don't Attack
Unlimited Use Items
Fast SAS Skill Cooldowns
Game Speed
Edit: Credits
Edit: BP Brain Points Yuito
Edit: BP Brain Points Kasane
Edit: Level
Edit: Total XP Earned
Edit: Current XP
Edit: Current HP
Edit: Max HP
Edit: Current Psychokinesis
Edit: Max Psychokinesis




Respect of the Copyright

The software you are about to download was not created by Apocanow. However, we have permission to publish and publicize by its authors Scarlet Nexus: Trainer - 1.03. The file you are about to download is virus free, even if sometimes your antivirus can trigger for a false positive.
Activating this trainer
If not state otherwise below, press F1 at main menu.
Listen for 'Trainer Activated'.
Press desired hotkey. All hotkeys can be changed on the trainer.
Promo Options
NumPad5: Unlimited Use Items
NumPad7: Game Speed
Selected Character Progression Stats: Total XP Earned
Player Stats: Max Psychokinesis
Trainer Options
# Player and Team
NumPad1: Unlimited Health
NumPad2: Unlimited PsychoKinesis
# Enemies
NumPad3: Super Damage
NumPad4: Enemies Don't Attack
# Quickbar Items
NumPad5: Unlimited Use Items
# SAS Skills
NumPad6: Fast SAS Skill Cooldowns
# Gameplay
NumPad7: Game Speed
Editor Options
# Currency
Credits
BP Brain Points Yuito
BP Brain Points Kasane
# Selected Character Progression Stats
Level
Total XP Earned
Current XP
# Player Stats
Current HP
Max HP
Current Psychokinesis
Max Psychokinesis