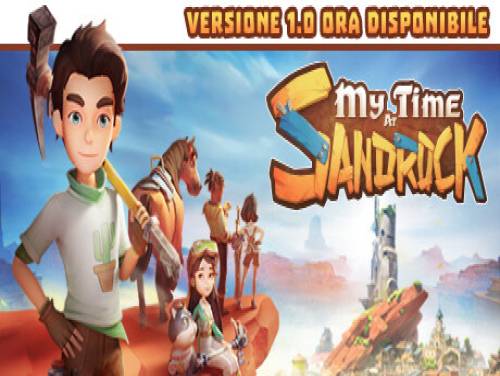 Welcome! Below we have reported the Trainer of My Time at Sandrock and a small guide to its use.
If you have ideas to make this guide better, contact us now and we will be happy to post your things on this page.
Together with the trainer we can also provide you with cheats for this game. Enter into the My Time at Sandrock cheats page and you will find all the cheats and unlockables to easily finish the game and, often, even a small guide to the collectibles of the game.
You'll take the role of a fledgling Builder to Sandrock. It's up to you and your trusty toolset to gather resources, construct machines, and fix up your workshop into a well-oiled production machine, and save the town from the jaws of economic ruin, as well as a few other unexpected complications.
Let's move on to show you the trainer after the introduction we just wrote in. Before downloading it, consult the user guide to make sure you aren't going to make mistakes.
Download Trainer
This trainer adds the following cheats to this game:
Infinite Health
Infinite Stamina
Infinite Endurance
Change Gold
Change EXP
Super Running Speed
Duplicate Items
Freeze Time Of Day
EXP Multiplier
Favor Multiplier
Super Game Speed
Infinite Water In Tank
Change Quantity
Edit: Name
Edit: Current Health
Edit: Maximum Health
Edit: Current Endurance
Edit: Maximum Endurance
Edit: Current Stamina
Edit: Maximum Stamina
Edit: Gold
Edit: Level
Edit: EXP
Edit: Count
Edit: Grade




Respect of the Copyright

The software you are about to download was not created by Apocanow. However, we have permission to publish and publicize by its authors My Time at Sandrock: Trainer. The file you are about to download is virus free, even if sometimes your antivirus can trigger for a false positive.
Activating this trainer
If not state otherwise below, press F1 at main menu.
Listen for 'Trainer Activated'.
Press desired hotkey. All hotkeys can be changed on the trainer.
Trainer Options
# Player
NumPad1: Infinite Health
NumPad2: Infinite Stamina
NumPad3: Infinite Endurance
NumPad4: Change Gold
NumPad5: Change EXP
NumPad6: Super Running Speed
# Inventory
NumPad7: Duplicate Items
# Time
NumPad8: Freeze Time Of Day
# Misc
NumPad9: EXP Multiplier
Multiply: Favor Multiplier
Add: Super Game Speed
Editor Options
# Player
Name
Current Health
Maximum Health
Current Endurance
Maximum Endurance
Current Stamina
Maximum Stamina
Gold
Level
EXP
# Inventory - Slot 1
Count
Grade
Notes
Infinite Health:
Infinite Stamina:
Infinite Endurance:
Value ingame needs to change before you can see the effect.
Duplicate Items:
While active split a stack to duplicate it
EXP Multiplier:
While active your gained EXP is multiplied by 4. Value can be customized after trainer activation.
Favor Multiplier:
While active gained favor is multiplied by 4. Value can be customized after trainer activation.