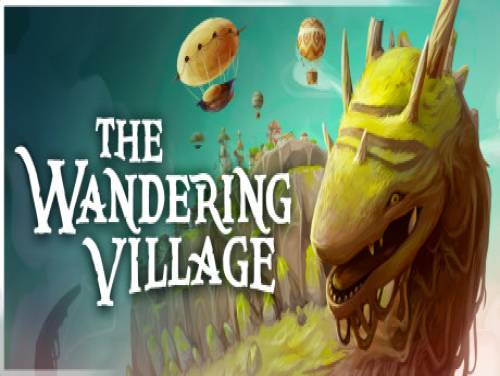 We are pleased to present you this article dedicated to the trainer of The Wandering Village. Here are all the resources that our staff have found.
If you believe you have something useful to add to the article, please contact us and we will be happy to publish all here on this page.
Not only that, we can also offer you cheats and codes for this game! See the The Wandering Village cheats page. You will see a selection of cheats and strategies useful to overcome any hostility the game puts in front of you.
The Wandering Village is a city-builder that takes place on the back of a colossal wandering creature.Build your own settlement and create a symbiotic relationship with the colossus.Can you survive in this hostile world, wonderfully post-apocalyptic and tainted with poisonous plants?
Let's move on to show you the trainer after the introduction we just wrote in. Before downloading it, consult the user guide to make sure you aren't going to make mistakes.
Download Trainer
This trainer adds the following cheats to this game:
Game Speed
Edit: Beet
Edit: Ammonia
Edit: Onbu Tranquiliser
Edit: Dung
Edit: Flour
Edit: Glass
Edit: Herb
Edit: Iron
Edit: Iron Ore
Edit: Mushroom
Edit: Beet Soup
Edit: Berry Museli
Edit: Black Pudding
Edit: Bread
Edit: Polenta
Edit: Grilled Tomato
Edit: Tree Sapling
Edit: Stone
Edit: Stone Slab
Edit: Tomato
Edit: Tool
Edit: Water
Edit: Wheat
Edit: Wood
Edit: Wood Plank
Edit: Onbu Constipator
Edit: Onbu Food
Edit: Liquid Onbu Food
Edit: Onbu Laxative
Edit: Berries
Edit: Onbu Bile
Edit: Biogas
Edit: Onbu Blood
Edit: Compost
Edit: Corn
Edit: Onbu Energy Booster
Edit: Onbu Painkillers




Respect of the Copyright

The software you are about to download was not created by Apocanow. However, we have permission to publish and publicize by its authors The Wandering Village: Trainer. The file you are about to download is virus free, even if sometimes your antivirus can trigger for a false positive.
Activating this trainer
If not state otherwise below, press F1 at main menu.
Listen for 'Trainer Activated'.
Press desired hotkey. All hotkeys can be changed on the trainer.
Trainer Options
# Misc
NumPad1: Game Speed
Editor Options
# Resources
Beet
Ammonia
Onbu Tranquiliser
Dung
Flour
Glass
Herb
Iron
Iron Ore
Mushroom
Beet Soup
Berry Museli
Black Pudding
Bread
Polenta
Grilled Tomato
Tree Sapling
Stone
Stone Slab
Tomato
Tool
Water
Wheat
Wood
Wood Plank
Onbu Constipator
Onbu Food
Liquid Onbu Food
Onbu Laxative
Berries
Onbu Bile
Biogas
Onbu Blood
Compost
Corn
Onbu Energy Booster
Onbu Painkillers