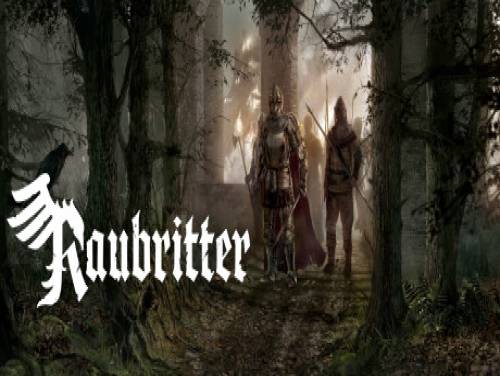 Welcome! Below we have reported the Trainer of Raubritter and a small guide to its use.
Are you able to improve this guide? We would be really happy to know how, so we can create a better article, updating it with your advices.
Together with the trainer we can also provide you with cheats for this game. Enter into the Raubritter cheats page and you will find all the cheats and unlockables to easily finish the game and, often, even a small guide to the collectibles of the game.
Ready for a medieval survival experience?Do you want to build but also fight?This is a game for you.You have been robbed of your title and your lands.Survive in the dark forest, rob merchants, burn down villages, build a camp, gather a fearsome gang and claim what's rightfully yours!
The introduction is over. Here is the trainer for this game, and the related user guide.
Download Trainer
This trainer adds the following cheats to this game:
Infinite Health
Unlimited Energy
No Hunger
No Thirst
No Illness
No Poisoning
No Infection
No Sleepiness
No Bleeding
Unlimited Weapon Durability
Increase Player Speed
Decrease Player Speed
Set Normal Player Speed
Increase Jump Height
Decrease Jump Height
Set Normal Jump Height
Decrease Gravity
Increase Gravity
Set Normal Gravity
Decrease Enemy Speed
Increase Enemy Speed
Freeze Enemies
Set Normal Enemy Speed
Save Position Slot 1
Save Position Slot 2
Save Position Slot 3
Save Position Slot 4
Save Position Slot 5
Restore Position Slot 1
Restore Position Slot 2
Restore Position Slot 3
Restore Position Slot 4
Restore Position Slot 5
Game Speed
Edit: EXP
Edit: Money




Respect of the Copyright

The software you are about to download was not created by Apocanow. However, we have permission to publish and publicize by its authors Raubritter: Trainer. The file you are about to download is virus free, even if sometimes your antivirus can trigger for a false positive.
Activating this trainer
If not state otherwise below, press F1 at main menu.
Listen for 'Trainer Activated'.
Press desired hotkey. All hotkeys can be changed on the trainer.
Trainer Options
# Player
NumPad1: Infinite Health
NumPad2: Unlimited Energy
NumPad3: No Hunger
NumPad4: No Thirst
NumPad5: No Illness
NumPad6: No Poisoning
NumPad7: No Infection
NumPad8: No Sleepiness
NumPad9: No Bleeding
Multiply: Unlimited Weapon Durability
Add: Increase Player Speed
Subtract: Decrease Player Speed
Decimal: Set Normal Player Speed
Divide: Increase Jump Height
F1: Decrease Jump Height
F2: Set Normal Jump Height
F3: Decrease Gravity
F4: Increase Gravity
F5: Set Normal Gravity
# Enemy
F6: Decrease Enemy Speed
F7: Increase Enemy Speed
F8: Freeze Enemies
F9: Set Normal Enemy Speed
# Teleport
F10: Save Position Slot 1
F11: Save Position Slot 2
F12: Save Position Slot 3
F13: Save Position Slot 4
F14: Save Position Slot 5
F15: Restore Position Slot 1
F16: Restore Position Slot 2
F17: Restore Position Slot 3
F18: Restore Position Slot 4
F19: Restore Position Slot 5
# Misc
F20: Game Speed