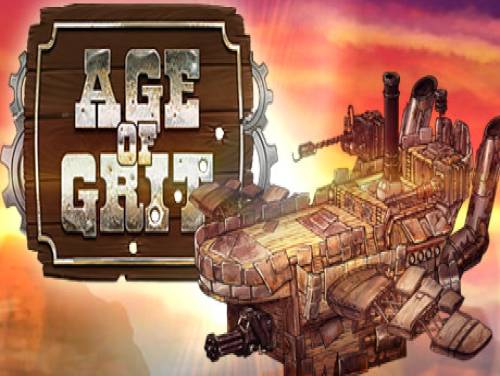 Welcome to the Age of Grit trainer page. You will surely be satisfied with the material we found, as this is a site completely dedicated to trainers and cheats of video games.
We hope that at the end of the reading you will appreciate the work we have done.
Not only the trainer! For you there are also cheats and cheat codes of Age of Grit. In the appropriate Age of Grit cheats page there are paragraphs dedicated to how to cheat with this game, and to unlock unpublished game modes, in addition to the list of achievements and how to get them.
Venture into a Wild West world in a rickety steampunk airship!Inspired by the likes of Firefly and classic CRPGs of the past.A unique setting full of lore, deep stories and adventures!Take on outlaws, gunslingers and bounty hunters in an epic quest for redemption and revenge!
After this introduction to the game, here is the trainer we promised you. You can see the guide and download the trainer on your PC.
Download Trainer
This trainer adds the following cheats to this game:
Unlimited Money
Game Speed
Edit: Reveal All Towns
Edit: Disable Encounters
Edit: Encounter Rate
Edit: Travel Speed
Edit: Max Range
Edit: Range
Edit: Original Fuel
Edit: Start Fuel
Edit: Current Fuel
Edit: Current Range
Edit: Max HP
Edit: Base Ship Armor
Edit: Base Ship Accuracy
Edit: Base Ship AP
Edit: HP
Edit: Steam Per Turn
Edit: Base Steam Per Turn
Edit: Max Steam
Edit: Steam Points
Edit: Hull Steam per Turn Bonus
Edit: Hull Max Steam Bonus




Respect of the Copyright

The software you are about to download was not created by Apocanow. However, we have permission to publish and publicize by its authors Age of Grit: Trainer - 1.3.5. The file you are about to download is virus free, even if sometimes your antivirus can trigger for a false positive.
Activating this trainer
If not state otherwise below, press F1 at main menu.
Listen for 'Trainer Activated'.
Press desired hotkey. All hotkeys can be changed on the trainer.
Trainer Options
# Currency
NumPad1: Unlimited Money
# Gameplay
NumPad2: Game Speed
Editor Options
# Ship Navigation
Reveal All Towns
Disable Encounters
Encounter Rate
Travel Speed
Max Range
Range
Original Fuel
Start Fuel
Current Fuel
Current Range
# Ship
Max HP
Base Ship Armor
Base Ship Accuracy
Base Ship AP
HP
Steam Per Turn
Base Steam Per Turn
Max Steam
Steam Points
Hull Steam per Turn Bonus
Hull Max Steam Bonus
Notes
Unlimited Money:
Spend money to see effect.
Ship Navigation' Reveal All Towns:
Ship Navigation' Disable Encounters:
Set to 1 or 0 to turn on or off.