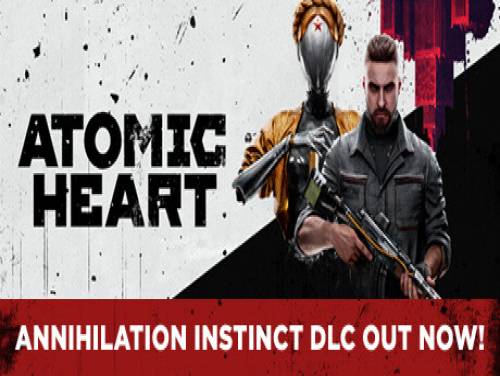 Welcome to our website. you are into the Atomic Heart trainer page. Without too many premises let's describe this article!
Are you able to improve this guide? We would be really happy to know how, so we can create a better article, updating it with your advices.
Not only the trainer! For you there are also cheats and cheat codes of Atomic Heart. In the appropriate Atomic Heart cheats page there are paragraphs dedicated to how to cheat with this game, and to unlock unpublished game modes, in addition to the list of achievements and how to get them.
Participate in explosive encounters in a utopian, crazy and sublime world.Adapt your fighting style to each enemy, take advantage of the environment and upgrade your equipment to complete the mission.The price for truth is blood.
The introduction is over. Here is the trainer for this game, and the related user guide.
Download Trainer
This trainer adds the following cheats to this game:
Unlimited Health
Unlimited Stamina
Unlimited Oxygen
Unlimited Energy
Unlimited Dodge
Unlimited Glove Energy
Unlimited Freeze Ray Energy
Unlimited Telekinetic Energy
Unlimited Shield Energy
No Reload
Unlimited Ammo and Upgrades
Resources Multiplier
Weak Enemies
Game Speed
Edit: Max Health
Edit: Health
Edit: Max Stamina
Edit: Stamina
Edit: Max Oxygen
Edit: Oxygen
Edit: Max Energy
Edit: Energy
Edit: Max Dodges
Edit: Dodges
Edit: Neuropolymers




Respect of the Copyright

The software you are about to download was not created by Apocanow. However, we have permission to publish and publicize by its authors Atomic Heart: Trainer - 02-28-2023. The file you are about to download is virus free, even if sometimes your antivirus can trigger for a false positive.
Activating this trainer
If not state otherwise below, press F1 at main menu.
Listen for 'Trainer Activated'.
Press desired hotkey. All hotkeys can be changed on the trainer.
Trainer Options
# Player
NumPad1: Unlimited Health
NumPad2: Unlimited Stamina
NumPad3: Unlimited Oxygen
NumPad4: Unlimited Energy
NumPad5: Unlimited Dodge
# Weapons and Items
NumPad6: No Reload
NumPad7: Unlimited Ammo and Upgrades
# Resources
NumPad8: Resources Multiplier
# Enemies
NumPad9: Weak Enemies
# Gameplay
Multiply: Game Speed
Editor Options
# Player Stats
Max Health
Health
Max Stamina
Stamina
Max Oxygen
Oxygen
Max Energy
Energy
Max Dodges
Dodges
# Upgrades
Neuropolymers
Notes
Unlimited Ammo and Upgrades:
May work with other items when used.
Resources Multiplier:
Toggle on, enter inventory. If you have one of the items you will have 9999 of it. Works for resources like Metal, etc. Best to leave off until you want to give yourself more.
Neuropolymers:
You need to have at least ONE for this to show a value.