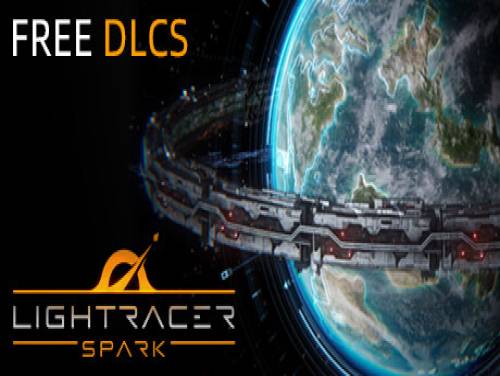 We are pleased to present you this article dedicated to the trainer of Lightracer Spark. Here are all the resources that our staff have found.
We hope that at the end of the reading you will appreciate the work we have done.
Wwe also have cheats for Lightracer Spark! You can find them in the appropriate Lightracer Spark cheats page. Inside there are paragraphs about cheats and unlockables relative to the game. If you are stuck somewhere in the game, or if you just want have more fun out of the rules, no way is better than consulting the cheats we have collected for you.
Lightracer Spark is a science fiction narrative game.You are an emendator of a high civilization, a descendant of various extraterrestrial worlds.Guide living beings to prosperity or nip a spark in the bud.Gather strength through choices and strategies to seize the rise and fall of all civilizations.
Once all the premises have been completed, we will show you the promo trainer we have recovered and the guide written specifically for us by the authors of the program.
Download Trainer
This trainer adds the following cheats to this game:
Invulnerable
Unlimited Health
Unlimited Energy
No Fatigue
No Hunger
No Thirst
Unlimited Sanity
Unlimited AP
Keep Body Temp at 36c
Unlimited Blood Volume
Super Move Speed
Unlimited Ammo
No Reload
Unlimited Weapon Durability
Super Weapon Damage
Super Weapons Force
Super Weapon Fire Range
Zero Weapon Fire Noise
Super Weapon Bullet Speed
No Recoil
Super Weapon Fire Interval
No Weapon Jam
Game Speed
Edit: Character Attr Point
Edit: Character Skill Point
Edit: Character Perk Point




Respect of the Copyright

The software you are about to download was not created by Apocanow. However, we have permission to publish and publicize by its authors Lightracer Spark: Trainer - ORIGINAL. The file you are about to download is virus free, even if sometimes your antivirus can trigger for a false positive.
Activating this trainer
If not state otherwise below, press F1 at main menu.
Listen for 'Trainer Activated'.
Press desired hotkey. All hotkeys can be changed on the trainer.
Trainer Options
# Player
NumPad1: Invulnerable
NumPad2: Unlimited Health
NumPad3: Unlimited Energy
NumPad4: No Fatigue
NumPad5: No Hunger
NumPad6: No Thirst
NumPad7: Unlimited Sanity
NumPad8: Unlimited AP
NumPad9: Keep Body Temp at 36c
Multiply: Unlimited Blood Volume
Add: Super Move Speed
Subtract: Unlimited Ammo
Decimal: No Reload
Divide: Unlimited Weapon Durability
F1: Super Weapon Damage
F2: Super Weapons Force
F3: Super Weapon Fire Range
F4: Zero Weapon Fire Noise
F5: Super Weapon Bullet Speed
F6: No Recoil
F7: Super Weapon Fire Interval
F8: No Weapon Jam
# Game
F9: Game Speed
Editor Options
# Player
Character Attr Point
Character Skill Point
Character Perk Point
Notes
Mute Hotkeys:
To temporarily disable the Hotkeys, press CTRL-H after trainer is
activated. You can use CTRL-H to re-activate the Hotkeys as well.
You can also mute specific hotkeys by changing the hotkey you want to mute to 'NONE'.