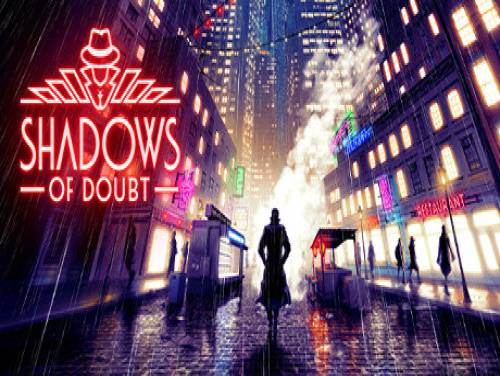 Hello and welcome to Apocanow, we present the article about the Trainer of Shadows of Doubt. We hope it will allow you to improve your experience with this game.
If you have something else to add to this guide and you want to share it, do not hesitate! We are always available to supplement our material with additions and to make everything available to our visitors.
Wwe also have cheats for Shadows of Doubt! You can find them in the appropriate Shadows of Doubt cheats page. Inside there are paragraphs about cheats and unlockables relative to the game. If you are stuck somewhere in the game, or if you just want have more fun out of the rules, no way is better than consulting the cheats we have collected for you.
An immersive sandbox police stealth game set in a fully simulated sci-fi noir city full of crime and corruption.He thinks like a private detective and takes jobs to earn money while hunting a serial killer.
Let's move on to show you the trainer after the introduction we just wrote in. Before downloading it, consult the user guide to make sure you aren't going to make mistakes.
Download Trainer
This trainer adds the following cheats to this game:
Game Speed
Edit: Money
Edit: Lockpicks
Edit: Social Credit
Edit: Lockpick Strength
Edit: Unreportable 0 or 1
Edit: Is Trespassing 0 or 1
Edit: Is Seen By Others 0 or 1
Edit: Is Visible 0 or 1
Edit: Current Health
Edit: Maximum Health
Edit: Current Health Normalized
Edit: Recovery Rate
Edit: Combat Skill
Edit: Combat Heft
Edit: Current Nerve
Edit: Max Nerve
Edit: Applied Stealth
Edit: Current Visibility Potential
Edit: Overall Visibility
Edit: Stealth Distance
Edit: Stealth Mode
Edit: Gas Level
Edit: Hurt
Edit: Roll Multiplier
Edit: Walk Speed
Edit: Run Speed




Respect of the Copyright

The software you are about to download was not created by Apocanow. However, we have permission to publish and publicize by its authors Shadows of Doubt: Trainer - 33.15. The file you are about to download is virus free, even if sometimes your antivirus can trigger for a false positive.
Activating this trainer
If not state otherwise below, press F1 at main menu.
Listen for 'Trainer Activated'.
Press desired hotkey. All hotkeys can be changed on the trainer.
Trainer Options
# Gameplay
NumPad1: Game Speed
Editor Options
# Currency
Money
Lockpicks
Social Credit
Lockpick Strength
# Player Stats
Unreportable 0 or 1
Is Trespassing 0 or 1
Is Seen By Others 0 or 1
Is Visible 0 or 1
Current Health
Maximum Health
Current Health Normalized
Recovery Rate
Combat Skill
Combat Heft
Current Nerve
Max Nerve
Applied Stealth
Current Visibility Potential
Overall Visibility
Stealth Distance
Stealth Mode
Gas Level
Hurt
Roll Multiplier
Walk Speed
Run Speed
Notes
Is Visible 0 or 1:
If you set Unreportable to 1, Is Seen By Others to 0, and Visible to 0 you are effectively invisible and able to do whatever you want.