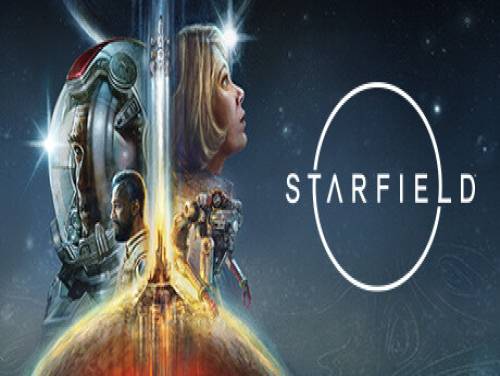 We are happy to show you the Starfield trainer and the guide to its use!
If you know anything else relevant to the topic do not hesitate to contact us, you will make it more complete and more useful to all visitors.
Together with the trainer we can also provide you with cheats for this game. Enter into the Starfield cheats page and you will find all the cheats and unlockables to easily finish the game and, often, even a small guide to the collectibles of the game.
Together with the trainer we can also provide you with the walkthrough of this game in the form of a video guide. Enter into the Starfield walkthrough page and you will be able to find a step by step guide to finish the game and to discover some game secrets.
Starfield is the first new universe in 25 years from Bethesda Game Studios, the award-winning creators of The Elder Scrolls V: Skyrim and Fallout 4.
After this introduction to the game, here is the trainer we promised you. You can see the guide and download the trainer on your PC.
Download Trainer
This trainer adds the following cheats to this game:
God Mode
Unlimited Health
Unlimited Oxygen
Unlimited Ability Powers
Unlimited Cutter
No Reload
No Recoil
Super Accuracy
Unlimited Use Items Collect and Ammo
Mega Inventory Max Mass
No Inventory Weight
Unlimited Jetpack
Enemies Don't Attack
Weak Targeted Enemies
Unlimited Boost
Unlimited Ship Weapons Energy
Super Shields
Max Ship Defense Systems Power
Max Ship Weapon Systems Power
Weak Enemy Shields
Easy Skill Rank Up Completed Challenges
Easy Persuade
Allow Research
Simple Research
No Cooking or Crafting Requirements
Easy Build
Easy Unlock Doors
Ignore Ship Design Errors
More Legendary Drops
More Equipment Drops
Game Speed
Edit: Current XP
Edit: Skill Points
Edit: Credits
Edit: Maximum Ship Design Modules
Edit: Max Power




Respect of the Copyright

The software you are about to download was not created by Apocanow. However, we have permission to publish and publicize by its authors Starfield: Trainer - BUILDID 12051365 V8. The file you are about to download is virus free, even if sometimes your antivirus can trigger for a false positive.
Activating this trainer
If not state otherwise below, press F1 at main menu.Listen for 'Trainer Activated'.Press desired hotkey. All hotkeys can be changed on the trainer.
Trainer Options
# PlayerNumPad1: God ModeNumPad2: Unlimited HealthNumPad3: Unlimited Oxygen# WeaponsNumPad4: Unlimited CutterNumPad5: No ReloadNumPad6: No RecoilNumPad7: Super Accuracy# ConsumablesNumPad8: Unlimited Use Items Collect and Ammo# InventoryNumPad9: Mega Inventory Max MassMultiply: No Inventory Weight# EquipmentAdd: Unlimited Jetpack# EnemiesSubtract: Enemies Don't AttackDecimal: Weak Targeted Enemies# ShipDivide: Unlimited BoostF1: Unlimited Ship Weapons EnergyF2: Super ShieldsF3: Max Ship Defense Systems PowerF4: Max Ship Weapon Systems Power# Enemy ShipF5: Weak Enemy Shields# ProgressionF6: Easy Skill Rank Up Completed Challenges# InteractionF7: Easy Persuade# Crafting and ResearchF8: Allow ResearchF9: Simple ResearchF10: No Cooking or Crafting RequirementsF11: Easy Build# LocksF12: Easy Unlock Doors# GameplayF13: Game Speed# Ship DesignF14: Ignore Ship Design Errors
Editor Options
# Player ProgressionCurrent XPSkill Points# CurrencyCredits# Ship DesignMaximum Ship Design Modules# ShipMax Power
Notes
Probably best to leave SHIP OPTIONS toggled OFF when not in the SHIP.God Mode:This powerful option does many things other than just making you invincible.No Inventory Weight:You may have to swap helmet or weapon or something to make the value change.Easy Skill Rank Up Completed Challenges:Toggle on then enter Skills screen then when you want to RANK UP each skill, the challenges are completed and you can rank up.Allow Research:Requirements are ignored.Simple Research:You will need less materials to complete research. You will need at least ONE of the materials.No Cooking or Crafting Requirements:You can craft or cook and won't need materials, and many times won't need requirements.Easy Build:Toggle on while you can see the Items you can BUILD (i.e. the INDUSTRIAL BENCH etc.) and you can build things even if you don't have the materials. TOGGLE BACK OFF ONCE BUILDING ITEMS.Player Progression' Current XP:Player Progression' Skill Points:Earn some XP then you can see the value here and then edit it. Next XP earned will update the visual of it in the game.Credits:You must have at least ONE Credit.
Mute Hotkeys:
To temporarily disable the Hotkeys, press CTRL-H after trainer isactivated. You can use CTRL-H to re-activate the Hotkeys as well.You can also mute specific hotkeys by changing the hotkey you want to mute to 'NONE'.