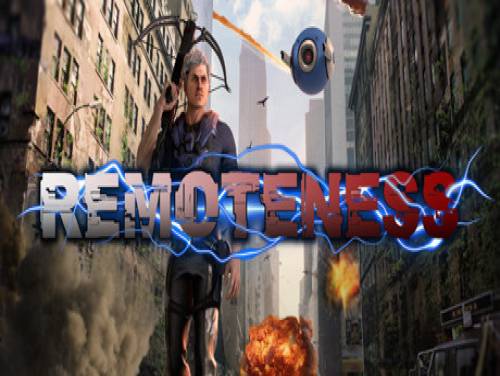 Introducing the page of Apocanow dedicated to the trainer of Remoteness! In it we will explain how to install it and use it, in order to activate the cheats and unlock new parts of the game.
If you have managed to find other items to be added, do not hesitate to send them in. We will add them to those already existing.
Not only the trainer! For you there are also cheats and cheat codes of Remoteness. In the appropriate Remoteness cheats page there are paragraphs dedicated to how to cheat with this game, and to unlock unpublished game modes, in addition to the list of achievements and how to get them.
New York, 2034: you wake up after what seemed like a terrible nightmare, but it isn't.The district was evacuated and isolated overnight by the army after a shower of electrical meteorites hit the Earth.Fight, explore, survive and try to escape this hell!
Once all the premises have been completed, we will show you the promo trainer we have recovered and the guide written specifically for us by the authors of the program.
Download Trainer
This trainer adds the following cheats to this game:
Invulnerable
Unlimited Health
Unlimited Asthma
Unlimited Energy
Unlimited Stamina
Invulnerable Friendly Bot
Unlimited Friendly Bot Health
Unlimited Friendly Bot Ammo
Super Friendly Bot Speed
Super Damage Friendly Bot
Super Fire Rate Friendly Bot
Super Walk Speed
Super Jump
Edit: Friendly Bot Speed
Edit: Player Speed Multiplier
Edit: Player Jump Multiplier
Edit: Game Speed




Respect of the Copyright

The software you are about to download was not created by Apocanow. However, we have permission to publish and publicize by its authors Remoteness: Trainer - ORIGINAL. The file you are about to download is virus free, even if sometimes your antivirus can trigger for a false positive.
Activating this trainer
If not state otherwise below, press F1 at main menu.Listen for 'Trainer Activated'.Press desired hotkey. All hotkeys can be changed on the trainer.
Trainer Options
# PlayerNumPad1: InvulnerableNumPad2: Unlimited HealthNumPad3: Unlimited AsthmaNumPad4: Unlimited EnergyNumPad5: Unlimited StaminaNumPad6: Invulnerable Friendly BotNumPad7: Unlimited Friendly Bot HealthNumPad8: Unlimited Friendly Bot AmmoNumPad9: Super Friendly Bot SpeedMultiply: Super Damage Friendly BotAdd: Super Fire Rate Friendly BotSubtract: Super Walk SpeedDecimal: Super Jump
Editor Options
# BotFriendly Bot Speed# PlayerPlayer Speed MultiplierPlayer Jump Multiplier# GameGame Speed
Notes
Mute Hotkeys:To temporarily disable the Hotkeys, press CTRL-H after trainer isactivated. You can use CTRL-H to re-activate the Hotkeys as well.You can also mute specific hotkeys by changing the hotkey you want to mute to 'NONE'.