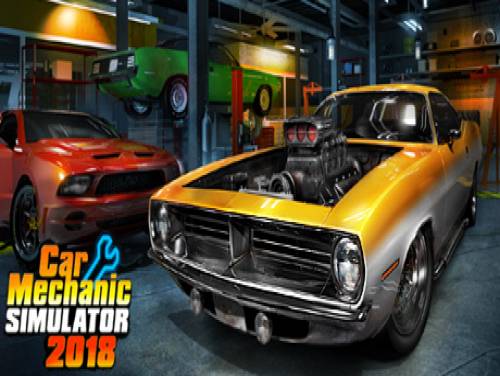 Welcome to the Car Mechanic Simulator 2018 trainer page. You will surely be satisfied with the material we found, as this is a site completely dedicated to trainers and cheats of video games.
If you have ideas to make this guide better, contact us now and we will be happy to post your things on this page.
Together with the trainer we can also provide you with cheats for this game. Enter into the Car Mechanic Simulator 2018 cheats page and you will find all the cheats and unlockables to easily finish the game and, often, even a small guide to the collectibles of the game.
Car Mechanic Simulator 2018 to challenge players. Guide, repair, paint and tune cars. In the new modules the Finds from the garage and Breakers yard, you'll find classic cars and unique vehicles. With the option Editor, auto you can also add your personal vehicle, built in autonomy. Build and develop your empire repair services in this simulation highly detailed and realistic, the attention to detail is truly amazing.
And now, finally, the long-awaited trainer for this game: download it, and after reading the user guide, activate it and you will be able to use all the cheats promised while playing.
Download Trainer
This trainer adds the following cheats to this game:
Increase Money
Increase EXP
Increase Jobs
Unlock All Upgrades
Perfect Parts Condition
Perfect Body Condition
Reveal Condition of All Parts
Always Unmountable
Fast Unmount
Why do you have to pay for some trainers and cheats?
Actually it is very rare to find games containing cheats because game developers are not interested at keeping them in their games. So the creation of cheats is executed by external programmers that spend their time and skills into the creation of trainers, programs that let you cheat on a particular game. They do it for passion or for money. Whatever the motivation, it's right to reward them for the time spent on their work.
Paid Cheats and Trainers are better in quality, contains more functionalities. They are maintained and supported by their developers.
Respect of the Copyright
The software you are about to download was not created by Apocanow. However, we have permission to publish and publicize by its authors Car Mechanic Simulator 2018: Trainer - 1.5.25.3. The file you are about to download is virus free, even if sometimes your antivirus can trigger for a false positive.
Activating this trainer
Press F1 at main menu.
Listen for 'Trainer Activated'.
Press desired hotkey. All hotkeys can be changed on the trainer.
Trainer Options
NumPad1: Increase Money By 5000
NumPad2: Increase EXP By 500
NumPad3: Increase Jobs By 1
NumPad4: Unlock All Upgrades
NumPad5: Perfect Parts Condition
NumPad6: Perfect Body Condition
NumPad7: Reveal Condition Of All Parts
NumPad8: Always Unmountable
NumPad9: Fast Unmount
Notes
You must finish the tutorial first before any cheats or the game may crash!
Increase Money / EXP / Jobs:
Press hotkey to add more money / exp or jobs.
Unlock All Upgrades:
Press hotkey to instantly unlock all upgrades. For the game to register
unlocks you will need to have a specific player level depending on the upgrade.
If you are at the beginning and use unlock upgrade option, you will need to add
EXP as well to see the upgrades unlocked.
Perfect Parts Condition:
While active open the car status screen and all parts are fully repaired.
Perfect Body Condition:
While active open the car status screen and the body condition is perfect.
Requires that body parts are not dismounted (does not work for things in your
inventory).
Always Unmountable:
While active you can unmount all parts without mounting other parts first.
Fast Unmount:
While active it takes a single click to remove a part (no more screws!)
Mute Hotkeys:
To temporarily disable the Hotkeys, press CTRL-H after trainer is
activated. You can use CTRL-H to re-activate the Hotkeys as well.
You can also mute specific hotkeys by changing the hotkey you want to mute to 'NONE'.
VR Mode
- HTC Vive
Click on the 'VR Mode' button. Trainer options will now be drawn as buttons. Activate the trainer as usual with your keyboard. Put your HTC Vive on and when you are ingame press the 'Menu' button on the hand controllers to open the steam overlay. At the bottom you can click on the 'Desktop' button and you can easily press options on the trainer with your hand controller now.
- Oculus Rift
As of now the oculus has no unique input device and uses keyboard or xbox controller. Both are support by the trainer already.