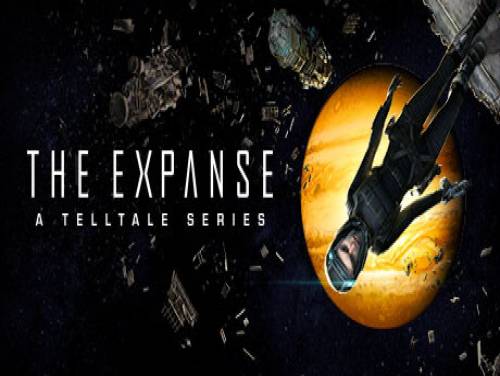 Introducing the page of Apocanow dedicated to the trainer of The Expanse: A Telltale Series! In it we will explain how to install it and use it, in order to activate the cheats and unlock new parts of the game.
The guide may not be 100% complete! If you have found something we don't have contact us. We will be happy to update this article with what you have sent us.
For The Expanse: A Telltale Series we also have cheats available. You will find a collection of cheat codes and unlockables that will allow you to overcome any obstacle on the The Expanse: A Telltale Series cheats page.
For The Expanse: A Telltale Series we also have the walkthrough of the game. You will find a collection of videos taken from YouTube putted together in order to allow you to get to the end of the game on the The Expanse: A Telltale Series walkthrough page.
Experience the exciting universe of The Expense like never before in Telltale's latest adventure, The Expanse: A Telltale Series.You take on the role of Camina Drummer and explore the dangerous reaches of the Belt aboard the Artemis.
The introduction is over. Here is the trainer for this game, and the related user guide.
Download Trainer
This trainer adds the following cheats to this game:
No Clip
Increase Player Speed
Decrease Player Speed
Set Normal Player Speed
Decrease NPC Speed
Increase NPC Speed
Freeze NPC
Set Normal NPC Speed
Save Position Slot 1
Save Position Slot 2
Save Position Slot 3
Save Position Slot 4
Save Position Slot 5
Restore Position Slot 1
Restore Position Slot 2
Restore Position Slot 3
Restore Position Slot 4
Restore Position Slot 5
Game Speed




Respect of the Copyright

The software you are about to download was not created by Apocanow. However, we have permission to publish and publicize by its authors The Expanse: A Telltale Series: Trainer - 1.0.902523.2310241203. The file you are about to download is virus free, even if sometimes your antivirus can trigger for a false positive.
Activating this trainer
If not state otherwise below, press F1 at main menu.Listen for 'Trainer Activated'.Press desired hotkey. All hotkeys can be changed on the trainer.
Trainer Options
# PlayerNumPad1: No ClipNumPad2: Increase Player SpeedNumPad3: Decrease Player SpeedNumPad4: Set Normal Player Speed# NPCNumPad5: Decrease NPC SpeedNumPad6: Increase NPC SpeedNumPad7: Freeze NPCNumPad8: Set Normal NPC Speed# TeleportNumPad9: Save Position Slot 1Multiply: Save Position Slot 2Add: Save Position Slot 3Subtract: Save Position Slot 4Decimal: Save Position Slot 5Divide: Restore Position Slot 1F1: Restore Position Slot 2F2: Restore Position Slot 3F3: Restore Position Slot 4F4: Restore Position Slot 5# GameF5: Game Speed
Notes
No Clip:Enable this only when you're in the air.