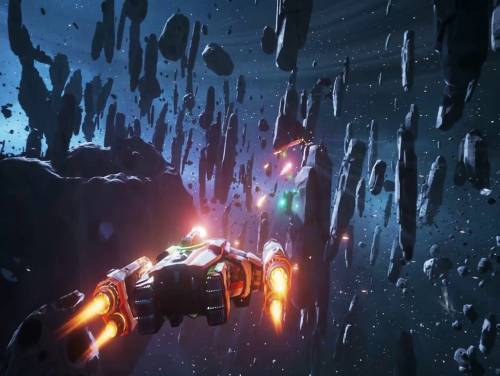 Hello and welcome to Apocanow, we present the article about the Trainer of Everspace. We hope it will allow you to improve your experience with this game.
If you have managed to find other items to be added, do not hesitate to send them in. We will add them to those already existing.
We also have cheats for Everspace! In our Everspace cheats page you will find codes and unlockable to overcome all obstacles and arrive without any worries at the end of the game.
EVERSPACE combines fast-paced combat with elements of murder, great visuals and a captivating story. Takes you on an adventure that is captivating through a universe that is well-built and ever-changing. Shoot, create, and go towards the victory, while the unknown is united against you.
After this introduction to the game, here is the trainer we promised you. You can see the guide and download the trainer on your PC.
Download Trainer
This trainer adds the following cheats to this game:
Infinite Shield
Infinite Hull
Unlimited Ammo
Unlimited Missiles
No Boost Cooldown
Unlimited Resources
Infinite Fuel
Change Credits
Infinite Consumables
No Skill Cooldowns
No Consumables Cooldown
No Secondary Weapon Cooldowns
Ignore Blueprints Requirements
Unlock All Blueprints
Why do you have to pay for some trainers and cheats?
Actually it is very rare to find games containing cheats because game developers are not interested at keeping them in their games. So the creation of cheats is executed by external programmers that spend their time and skills into the creation of trainers, programs that let you cheat on a particular game. They do it for passion or for money. Whatever the motivation, it's right to reward them for the time spent on their work.
Paid Cheats and Trainers are better in quality, contains more functionalities. They are maintained and supported by their developers.
Respect of the Copyright
The software you are about to download was not created by Apocanow. However, we have permission to publish and publicize by its authors Everspace: Trainer - 1.3.2.36166. The file you are about to download is virus free, even if sometimes your antivirus can trigger for a false positive.
Activating this trainer
Press F1 at main menu.
Listen for 'Trainer Activated'.
Press desired hotkey. All hotkeys can be changed on the trainer.
Trainer Options
NumPad1: Infinite Hull
NumPad2: Unlimited Ammo
NumPad3: Unlimited Missiles
NumPad4: No Boost Cooldown
NumPad5: Unlimited Resources
NumPad6: Infinite Fuel
NumPad7: Change Credits By 250
NumPad8: Infinite Consumables
NumPad9: No Skill Cooldowns
NumPad0: No Consumables Cooldowns
NumPad/: No Secondary Weapon Cooldowns
NumPad*: Ignore Blueprints Requirements
NumPad-: Unlock All Blueprints
NumPad+: Infinite Shield
Editor Options
Credits
Notes
Unlimited Ammo:
While active your ammo will not decrease when shooting.
Unlimited Resources:
While active press TAB ingame and all resources are unlimited.
Require at least 1 of a resource.
Change Credits:
While flying around press hotkey to add more.
No Cooldowns:
While active you have no skill / consumable / secondary weapon cooldown.
Please note that as long as the effect of the skill / consumable etc is active
you may not be able to use it at all (this has nothing to do with a cooldown).
Ignore Blueprints Requirements:
While active you can craft blueprints without meeting the requirements.
Unlock All Blueprints
While active open your equipment screen and you can craft all blueprints.
You can deactivate this option as it works one-time.
Mute Hotkeys:
To temporarily disable the Hotkeys, press CTRL-H after trainer is
activated. You can use CTRL-H to re-activate the Hotkeys as well.
You can also mute specific hotkeys by changing the hotkey you want to mute to 'NONE'.
VR Mode
- HTC Vive
Click on the 'VR Mode' button. Trainer options will now be drawn as buttons. Activate the trainer as usual with your keyboard. Put your HTC Vive on and when you are ingame press the 'Menu' button on the hand controllers to open the steam overlay. At the bottom you can click on the 'Desktop' button and you can easily press options on the trainer with your hand controller now.
- Oculus Rift
As of now the oculus has no unique input device and uses keyboard or xbox controller. Both are support by the trainer already.