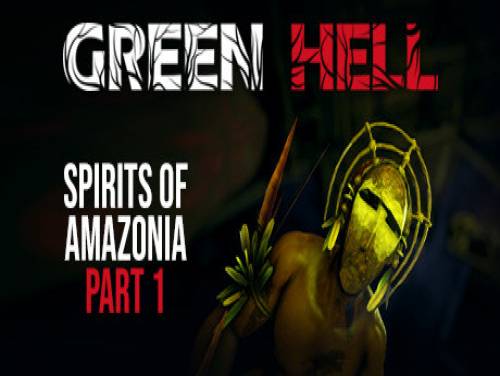 Welcome to Apocanow! This article shows the trainer of the game Green Hell and contains a little guide to its use in separate pages, you will also find possible walkthroughs and cheats of the game.
If you know anything else relevant to the topic do not hesitate to contact us, you will make it more complete and more useful to all visitors.
Wwe also have cheats for Green Hell! You can find them in the appropriate Green Hell cheats page. Inside there are paragraphs about cheats and unlockables relative to the game. If you are stuck somewhere in the game, or if you just want have more fun out of the rules, no way is better than consulting the cheats we have collected for you.
Do you think that's not enough? We also have the walkthrough of Green Hell! You can find it in the appropriate Green Hell walkthrough page. In that page there are one or more videos containing the guide to the various pieces of game. If you are stuck somewhere in the game there is no way better than seeing the videos we've collected for you.
Green Hell is a suffocating struggle for survival in the amazon rainforest. Eager to survive, you will face an adventure in which the loneliness will test your physical and mental strength.
Thank you for reading this brief introduction. Now let's show you the guide to the trainer and the button to download it.
Download Trainer
This trainer adds the following cheats to this game:
Infinite Health
Infinite Energy
Infinite Nutrition Fat
Infinite Nutrition Carbo
Infinite Nutrition Proteins
No Thirst
Infinite Oxygen
Toggle Dev Hotkeys
Super Speed
Instant and Free Build
Indestructible Items
Why do you have to pay for some trainers and cheats?
Actually it is very rare to find games containing cheats because game developers are not interested at keeping them in their games. So the creation of cheats is executed by external programmers that spend their time and skills into the creation of trainers, programs that let you cheat on a particular game. They do it for passion or for money. Whatever the motivation, it's right to reward them for the time spent on their work.
Paid Cheats and Trainers are better in quality, contains more functionalities. They are maintained and supported by their developers.
Respect of the Copyright
The software you are about to download was not created by Apocanow. However, we have permission to publish and publicize by its authors Green Hell Trainer - v1.5.5. The file you are about to download is virus free, even if sometimes your antivirus can trigger for a false positive.
Activating this trainer
Press F1 at main menu.
Listen for 'Trainer Activated'.
Press desired hotkey.All hotkeys can be changed on the trainer.
Trainer Options
NumPad1: Infinite Health
NumPad2: Infinite Energy
NumPad3: Infinite Nutrition Fat
NumPad4: Infinite Nutrition Carbo
NumPad5: Infinite Nutrition Proteins
NumPad6: No Thirst
NumPad7: Infinite Oxygen
NumPad8: Toggle Developer Hotkeys
NumPad9: Super Speed
NumPad0: Instant and Free Build
NumPad/: Indestructible Items
Editor Options
Developer Hotkeys
Numlock: Slow time scale
Divide: Fast time scale
Plus: Add 1 hour
Minus: Subtract 1 hour
Enter: Add 10 hours
Pause: Pause
Ctrl+M: God mode
Period: Toggle time progressing
Alt+Backquote: Kills player (holding SHIFT meanwhile does not kill immediately but adds damage to player)
Equal: Toggle rain
Semicolon: End tutorial
Minus: Toggle debug cursor
U: Particle system info
Left or right bracket: Plays cutscene
Ctrl+F6: Starts body inspection minigame
9: Saves the game
Ctrl: Toggle HUD camera position
Notes
Instant and Free Build:
While active place a structure and its instantly built.
Indestructible Items:
While active your items will not take damage.