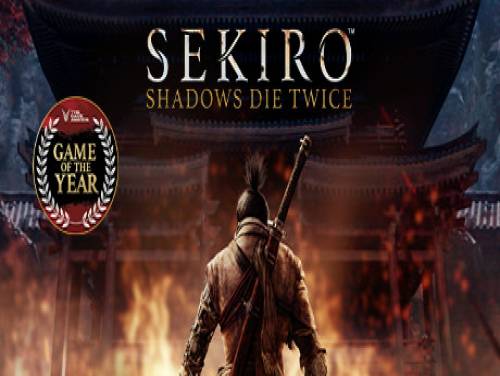 Welcome to the Sekiro: Shadows Die Twice trainer page. You will surely be satisfied with the material we found, as this is a site completely dedicated to trainers and cheats of video games.
The guide may not be 100% complete! If you have found something we don't have contact us. We will be happy to update this article with what you have sent us.
Together with the trainer we can also provide you with cheats for this game. Enter into the Sekiro: Shadows Die Twice cheats page and you will find all the cheats and unlockables to easily finish the game and, often, even a small guide to the collectibles of the game.
Embark on the journey towards revenge in a new adventure FromSoftware, the developers of Bloodborne and Dark Souls. Avenged. Redeem your honor. Kill with cunning.
And now, finally, the long-awaited trainer for this game: download it, and after reading the user guide, activate it and you will be able to use all the cheats promised while playing.
Download Trainer
This trainer adds the following cheats to this game:
Stealth Mode
Easy Guard
Infinite Buff Duration
Change Attack Power
Enemy Won't Hit
Reset Item/Skill Points Quantity
Super Jump
Infinite Health
One Hit Kills
Full Item Uses
Change Sen
Change EXP
EXP Multiplier
Unlimited Item Uses/Skill Points
Super Speed
Slow Motion
Why do you have to pay for some trainers and cheats?
Actually it is very rare to find games containing cheats because game developers are not interested at keeping them in their games. So the creation of cheats is executed by external programmers that spend their time and skills into the creation of trainers, programs that let you cheat on a particular game. They do it for passion or for money. Whatever the motivation, it's right to reward them for the time spent on their work.
Paid Cheats and Trainers are better in quality, contains more functionalities. They are maintained and supported by their developers.
Respect of the Copyright
The software you are about to download was not created by Apocanow. However, we have permission to publish and publicize by its authors Sekiro: Shadows Die Twice Trainer - v1.04. The file you are about to download is virus free, even if sometimes your antivirus can trigger for a false positive.
Activating this trainer
If not state otherwise below, press F1 at main menu.
Listen for 'Trainer Activated'.
Press desired hotkey. All hotkeys can be changed on the trainer.
Promo Options
Decimal: Super Speed
Trainer Options
NumPad1: Infinite Health
NumPad2: One Hit Kills
NumPad3: Full Item Uses
NumPad4: Change Sen
NumPad5: Change EXP
NumPad6: EXP Multiplier
NumPad7: Unlimited Item Uses / Skill Points
NumPad8: Stealth Mode
NumPad9: Easy Guard
Multiply: Infinite Buff Duration
Add: Change Attack Power
Separator: Enemy Won't Hit
Subtract: Reset Item / Skill Points Quantity
Decimal: Super Speed
Divide: Slow Motion
F1: Super Jump
Editor Options
Player: Sen
Player: EXP
Player: Attack Power
Notes
Full Item Uses:
While active when you use an item the amount of uses will be replenished i.e. set to its maximum uses. WARNIING: Do not leave this active all the time as this also affects other things like skill points. Turn this on when using an item and then turn it off.
Change Sen:
Press hotkey and open your status screen to see it has changed.
Change EXP:
Press hotkey and open status screen to see it has changed.
EXP Multiplier:
While active your gained EXP is multiplied by 4 which can be customized after trainer activation.
Unlimited Item Uses / Skill Points:
While active your item uses and skill points will not decrease but can still increase. WARNING: Do not let this option active all the time.
Enemy Won't Hit:
While active enemy cannot hit you, i.e. hit physics are disabled.
Reset Item / Skill Points Quantity:
While active open your inventory to set all item quantities and your skill points to 1. I recommend you make a backup of your savegame first.
Super Jump:
While active you jump much more higher. You can customize the jump boost value after trainer activation.