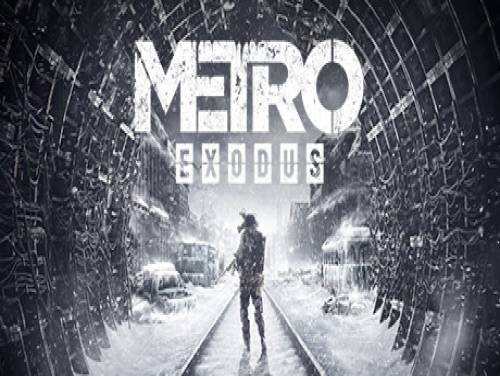 We are happy to show you the Metro Exodus trainer and the guide to its use!
The guide may not be 100% complete! If you have found something we don't have contact us. We will be happy to update this article with what you have sent us.
We also have cheats for Metro Exodus! In our Metro Exodus cheats page you will find codes and unlockable to overcome all obstacles and arrive without any worries at the end of the game.
Escape from the ruins of the Moscow metro, and embark on an epic journey to cross an entire continent in the wilderness of Russia, post-apocalyptic. Explore the huge non-linear levels, lose yourself in an experience sandbox survival immersive, and follow an exciting story that lasts a whole year and more...
And now, finally, the long-awaited trainer for this game: download it, and after reading the user guide, activate it and you will be able to use all the cheats promised while playing.
Download Trainer
This trainer adds the following cheats to this game:
Unlimited Pressure and Current
Always Clean Weapons
Unlimited Health
Unlimited Medkits
Unlimited Gas Mask Damage
Unlimited Mask Filter Time
Flashlight Brightness Charge
Unlimited Ammo/Crafting
No Reload
No Weapon Overheat
Creatures Don't Attack
Unlimited Throw Items
Add Time of Day
Super Speed
Why do you have to pay for some trainers and cheats?
Actually it is very rare to find games containing cheats because game developers are not interested at keeping them in their games. So the creation of cheats is executed by external programmers that spend their time and skills into the creation of trainers, programs that let you cheat on a particular game. They do it for passion or for money. Whatever the motivation, it's right to reward them for the time spent on their work.
Paid Cheats and Trainers are better in quality, contains more functionalities. They are maintained and supported by their developers.
Respect of the Copyright
The software you are about to download was not created by Apocanow. However, we have permission to publish and publicize by its authors Metro Exodus Trainer - v1.0.1.4. The file you are about to download is virus free, even if sometimes your antivirus can trigger for a false positive.
Activating this trainer
If not state otherwise below, press F1 at main menu.
Listen for 'Trainer Activated'.
Press desired hotkey. All hotkeys can be changed on the trainer.
Promo Options
NumPad5: Flashlight Brightness Charge
Trainer Options
NumPad1: Unlimited Health
NumPad2: Unlimited Medkits
NumPad3: Unlimited Gas Mask Damage
NumPad4: Unlimited Mask Filter Time
NumPad5: Flashlight Brightness Charge
NumPad6: Unlimited Ammo / Crafting
NumPad7: No Reload
NumPad8: No Weapon Overheat
NumPad9: Creatures Don't Attack
Multiply: Unlimited Throw Items
Add: Time Of Day
Separator: Super Speed
Subtract: Always Clean Weapons
Decimal: Unlimited Pressure and Current
Notes
If errors are shown in your hotkeys (usually a red "!" ) delete the file 65398.xml usually located here:
C:UsersAppDataRoamingCheat HappensTrainer Settings
Unlimited Health:
Toggle on and most things cannot kill you. Some parts of the game are scripted failures. Also if you were supposed to die, the game can crash or seem hung up, so toggle off if repeatable problems.
Unlimited Medkits:
Toggle on and you have unlimited Medkits.
Unlimited Gas Mask Damage:
Toggle on, and while on the mask gets no further damage. Works best on masks that have not been broken to the point they have a hole and taped.
Unlimited Mask Filter Time:
Toggle on and your filter never runs out.
Flashlight Brightness Charge:
Toggle on and the light remains at maximum charge.
Unlimited Ammo / Crafting:
Toggle on and your weapon ammo does not decrease when fired. Also many other items in the game are temporarily set high and may be useful, such as for crafting items.
No Reload:
Toggle on and many weapons you can fire without reloading.
No Weapon Overheat:
Toggle on and many weapons do not overheat when fired.
Creatures Don't Attack:
Toggle on and many non-human creatures will approach but will not attack. Some attacks are scripted in the game.
Unlimited Throw Items:
Toggle on and most items you can throw, such as knives, can be thrown unlimited.
Time Of Day:
Press to set the time of day based on the value in the trainer.
Super Speed:
Toggle on to speed up movement in the game to get to places quicker.
Always Clean Weapons:
Toggle on and most weapons revert to 100% clean and stay that way while this is on.
Unlimited Pressure and Current:
Some weapons and items use pressure or voltage to power the weapons. Toggle this on to keep the value locked to the value you can modify in the trainer.