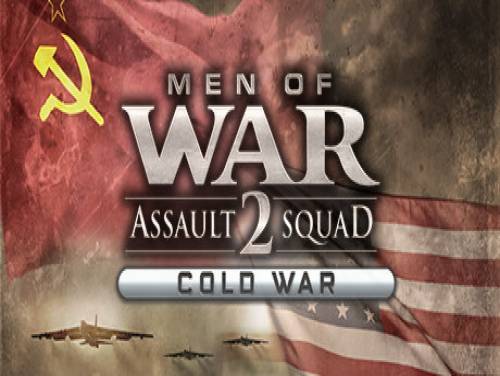 Welcome to Apocanow! This article shows the trainer of the game Men of War: Assault Squad 2 - Cold War and contains a little guide to its use in separate pages, you will also find possible walkthroughs and cheats of the game.
If you have managed to find other items to be added, do not hesitate to send them in. We will add them to those already existing.
Wwe also have cheats for Men of War: Assault Squad 2 - Cold War! You can find them in the appropriate Men of War: Assault Squad 2 - Cold War cheats page. Inside there are paragraphs about cheats and unlockables relative to the game. If you are stuck somewhere in the game, or if you just want have more fun out of the rules, no way is better than consulting the cheats we have collected for you.
The legendary series of RTS Men of War comes at the time of the cold war. Take command of the american army or those of the soviet union: the decisions of the military belong to you. Conquest victory in dynamic campaigns for single player and co-op, or challenge other strategists in the online multiplayer!
And now, finally, the long-awaited trainer for this game: download it, and after reading the user guide, activate it and you will be able to use all the cheats promised while playing.
Download Trainer
This trainer adds the following cheats to this game:
Fast Spawn Units Cooldown
Unlimited Morale
Unlimted Ammo
Unlimited Stamina
Unlimited Fuel
Click Repair Vehicle
Carnage Mode
Game Speed
Edit: Max Available MP
Edit: Current Max MP
Edit: Current MP
Edit: Max CP
Edit: CP Max Multiplier
Edit: Current CP
Edit: Current SP
Edit: Team 1
Edit: Team 2
Edit: Max HP
Edit: Current HP
Edit: Max Stamina
Edit: Current Stamina
Edit: Veterancy Level
Edit: Current Veterancy XP
Edit: Current Hull
Edit: Max Hull
Edit: Current Hull 2
Edit: Max Hull 2
Edit: Current Turret
Edit: Max Turret
Why do you have to pay for some trainers and cheats?
Actually it is very rare to find games containing cheats because game developers are not interested at keeping them in their games. So the creation of cheats is executed by external programmers that spend their time and skills into the creation of trainers, programs that let you cheat on a particular game. They do it for passion or for money. Whatever the motivation, it's right to reward them for the time spent on their work.
Paid Cheats and Trainers are better in quality, contains more functionalities. They are maintained and supported by their developers.
Respect of the Copyright
The software you are about to download was not created by Apocanow. However, we have permission to publish and publicize by its authors Men of War: Assault Squad 2 - Cold War Trainer - v1.002.0. The file you are about to download is virus free, even if sometimes your antivirus can trigger for a false positive.
Activating this trainer
If not state otherwise below, press F1 at main menu.
Listen for 'Trainer Activated'.
Press desired hotkey. All hotkeys can be changed on the trainer.
Promo Options
NumPad4: Unlimited Stamina
Trainer Options
# Player Team
NumPad1: Fast Spawn Units Cooldown
# Units
NumPad2: Unlimited Morale
NumPad3: Unlimted Ammo
NumPad4: Unlimited Stamina
# Vehicles
NumPad5: Unlimited Fuel
NumPad6: Click Repair Vehicle
# Gameplay
NumPad7: Carnage Mode
NumPad8: Game Speed
Editor Options
# MP:
Max Available MP
Current Max MP
Current MP
# CP:
Max CP
CP Max Multiplier
Current CP
# SP:
Current SP
# Skirmish Score:
Team 1
Team 2
# Selected Unit:
Max HP
Current HP
Max Stamina
Current Stamina
Veterancy Level
Current Veterancy XP
# Selected Vehicle:
Current Hull
Max Hull
Current Hull 2
Max Hull 2
Current Turret
Max Turret
Notes
Fast Spawn Units Cooldown:
Toggle on and the timer that prevents you from spawning units again is reset instantly.
Unlimited Morale:
Toggle on and morale remains high.
Unlimted Ammo:
Toggle on and many units have unlimited ammo.
Unlimited Fuel:
Toggle on and many vehicles have unlimited fuel.
Click Repair Vehicle:
Toggle on and the selected vehicle will instantly repair and be ready to attack if they are not destroyed. This isn't as complete as an actual repair command with units, but in many cases your vehicle can still attack and be useful rather than being completely useless.
Carnage Mode:
Toggle on and the units and vehicles can fire their weapons very quickly. This is pure carnage! All units, including enemy units, are affected, so make sure you have everything prepared if you are assaulting with this active, as the action and destruction is amplified.
Game Speed:
Toggle on to speed up the game.