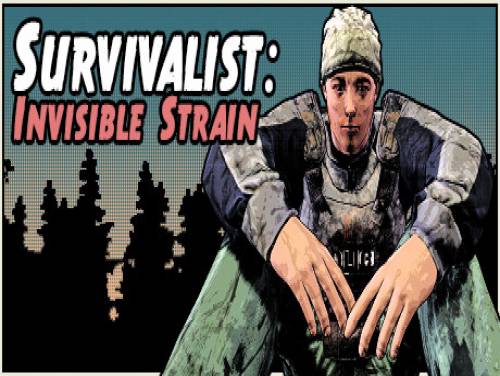 Hello! We are pleased to have you here on our website. This page shows the trainer and its user guide for Survivalist: Invisible Strain.
If you have managed to find other items to be added, do not hesitate to send them in. We will add them to those already existing.
Do you want to get out of the box? We have cheats for Survivalist: Invisible Strain. See the Survivalist: Invisible Strain cheats page. You will find all the cheats,cheat codes, unlockables and objectives with the explanation on how to overcome them.
It's ten years since the infection started. Long-established settlements are collapsing, one by one, for unknown reasons. Survivors are running to the hills to escape, hoping for safety in remote places. As another refugee, you're here to carve out a new life for yourself - by any means necessary.
Once all the premises have been completed, we will show you the promo trainer we have recovered and the guide written specifically for us by the authors of the program.
Download Trainer
This trainer adds the following cheats to this game:
Zombies Avoid Player
Expose Entire Map and Area
Unlimited Carry Weight
No Reload
Game Speed
Edit: Fatigue
Edit: Adrenaline
Edit: Blood Loss
Edit: Hunger
Edit: Thirst
Edit: Toilet
Edit: Sleep Deprivation
Edit: Body Temp (keep at 35-39)
Edit: Blood Alchohol Concentration
Edit: Infection Progression
Edit: Current Level
Edit: Fitness
Edit: Hand to Hand
Edit: Archery
Edit: Firearms
Edit: Stealth
Edit: Construction
Edit: Farming
Edit: Medicine
Edit: Cooking
Edit: Fitness XP
Edit: Hand to Hand XP
Edit: Archery XP
Edit: Firearms XP
Edit: Stealth XP
Edit: Construction XP
Edit: Farming XP
Edit: Medicine XP
Edit: Cooking XP
Edit: Mouse Over Inventory Item
Why do you have to pay for some trainers and cheats?
Actually it is very rare to find games containing cheats because game developers are not interested at keeping them in their games. So the creation of cheats is executed by external programmers that spend their time and skills into the creation of trainers, programs that let you cheat on a particular game. They do it for passion or for money. Whatever the motivation, it's right to reward them for the time spent on their work.
Paid Cheats and Trainers are better in quality, contains more functionalities. They are maintained and supported by their developers.
Respect of the Copyright
The software you are about to download was not created by Apocanow. However, we have permission to publish and publicize by its authors Survivalist: Invisible Strain: Trainer - EA 94. The file you are about to download is virus free, even if sometimes your antivirus can trigger for a false positive.
Activating this trainer
If not state otherwise below, press F1 at main menu.
Listen for 'Trainer Activated'.
Press desired hotkey. All hotkeys can be changed on the trainer.
Promo Options
NumPad5: Game Speed
Trainer Options
# Undead
NumPad1: Zombies Avoid Player
# Map
NumPad2: Expose Entire Map and Area
# Inventory
NumPad3: Unlimited Carry Weight
# Weapons
NumPad4: No Reload
# Gameplay
NumPad5: Game Speed
Editor Options
# Player Stats
Fatigue
Adrenaline
Blood Loss
Hunger
Thirst
Toilet
Sleep Deprivation
Body Temp (keep at 35-39)
Blood Alchohol Concentration
Infection Progression
Current Level
Fitness
Hand to Hand
Archery
Firearms
Stealth
Construction
Farming
Medicine
Cooking
Fitness XP
Hand to Hand XP
Archery XP
Firearms XP
Stealth XP
Construction XP
Farming XP
Medicine XP
Cooking XP
# Inventory
Mouse Over Inventory Item
Notes
Game Speed:
Toggle on to affect game speed.