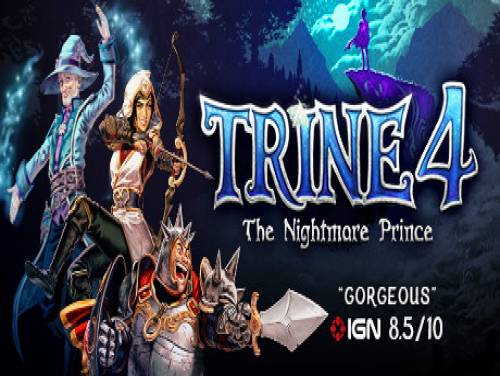 Welcome to the article on this site associated with the cheats and unlockables of Trine 4: The Nightmare Prince. All the secrets we know about this game are written on this page.
If you have any other content, do not hesitate to send it to us, we will be happy to post it in the article.
The series best-selling Trine returns to the magic of 2.5 D! Along with the three iconic heroes take part in the mission that takes place through the beautiful landscapes and fairy tale, and save the world from the darkness of the Prince of the Nightmare.
The cheats in our possession are valid for PC / PS4 / XBOX ONE / SWITCH and they should be all the valid ones since the game came out, that is 8/09/2019. We update the list of consoles every time.
Discover cheats and cheat codes for Trine 4: The Nightmare Prince (PC / PS4 / XBOX ONE / SWITCH): Endless_Health and Super Jump.
There is a promo Trainer available for Trine 4: The Nightmare Prince, too. If you download and run it while playing your game, it will unlocks new features, usually additional cheats not obtainable in any other way.
At the bottom of this page you can read the list of objectives to be reached for the corresponding consoles, together with a small explanation on how to reach them.
Let's move on to show you the cheats after the introduction we just wrote.