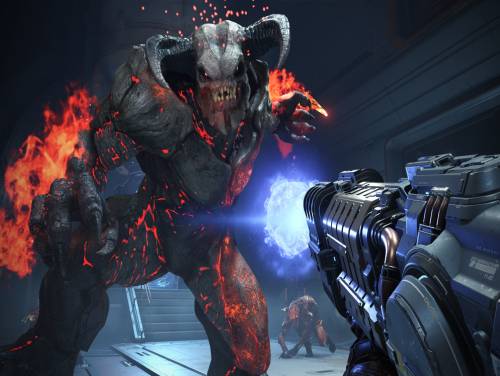 We are pleased to present you this article dedicated to the cheats and codes of Doom Eternal. Here you will find all the resources that our staff found on Doom Eternal. You can also find trainers and achievements.
If you know other cheats, suggest them by contacting us and we will be happy to publish them here on this article.
The armies of hell have invaded Earth. Becomes the Slayer in an epic single-player campaign, conquer the demons through the dimensions and stops the final destruction of humanity. The only thing that they fear... it's you.
The cheats in our possession are valid for PC / PS4 / XBOX ONE / SWITCH and they should be all the valid ones since the game came out, that is 20/03/2020. We update the list of consoles every time.
Discover cheats and cheat codes for Doom Eternal (PC / PS4 / XBOX ONE / SWITCH): Endless Health and Endless Armor.
Not enough? We also have the walkthrough of Doom Eternal! You can find it in the appropriate Doom Eternal guide page. On that page you will find one or more videos containing the various pieces of game. If you are stuck at some point in the game no way is better to consult the videos we have collected for you.
An avalanche of cheats for you thanks to the trainer of Doom Eternal downloadable on this page! A Trainer is a software that allows you to modify the game safely by adding cheats that did not exist previously. You can find everything on this page!
Under the cheats you will also find the list of achievements for this game with a little explanation on how to get them all.
Let's move on to show you the cheats after the introduction we just wrote.