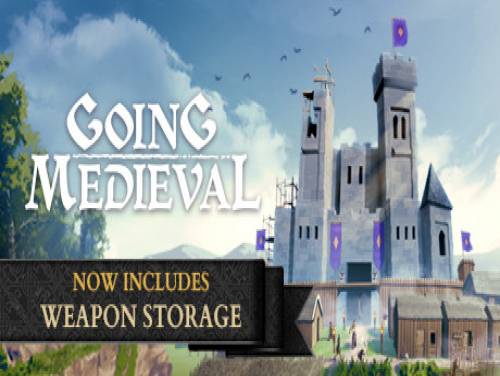 Welcome to our website. you are into the Going Medieval trainer page. Without too many premises let's describe this article!
If you know other material about the trainer and you can improve this guide, we would be happy to know the details. Contact us! You will help all users who are looking for a good guide made for this topic.
Together with the trainer we can also provide you with cheats for this game. Enter into the Going Medieval cheats page and you will find all the cheats and unlockables to easily finish the game and, often, even a small guide to the collectibles of the game.
Stake your claim in this alternate history medieval colony survival sim. Build a multi-story fortress in a land reclaimed by wilderness, defend against raids and keep your villagers happy as their personalities are shaped by the world!
Thank you for reading this brief introduction. Now let's show you the guide to the trainer and the button to download it.
Download Trainer
This trainer adds the following cheats to this game:
No Needs
Mega Resources On Build
Fast Construction
Super Production Speed
Game Speed
Edit: Amount
Edit: Level Animal Handling
Edit: XP Animal Handling
Edit: Level Botony
Edit: XP Botony
Edit: Level Carpentry
Edit: XP Carpentry
Edit: Level Construction
Edit: XP Construction
Edit: Level Culinary
Edit: XP Culinary
Edit: Level Intellectual
Edit: XP Intellectual
Edit: Level Marksman
Edit: XP Marksman
Edit: Level Medicine
Edit: XP Medicine
Edit: Level Melee
Edit: XP Melee
Edit: Level Mining
Edit: XP Mining
Edit: Level Smithing
Edit: XP Smithing
Edit: Level Speechcraft
Edit: XP Speechcraft
Edit: Level Tailoring
Edit: XP Tailoring




Respect of the Copyright

The software you are about to download was not created by Apocanow. However, we have permission to publish and publicize by its authors Going Medieval: Trainer - 0.5.28.6. The file you are about to download is virus free, even if sometimes your antivirus can trigger for a false positive.
Activating this trainer
If not state otherwise below, press F1 at main menu.
Listen for 'Trainer Activated'.
Press desired hotkey. All hotkeys can be changed on the trainer.
Promo Options
NumPad3: Fast Construction
NumPad5: Game Speed
Skills: Level Medicine
Skills: XP Medicine
Skills: Level Mining
Skills: XP Mining
Trainer Options
# Workers
NumPad1: No Needs
# Building
NumPad2: Mega Resources On Build
NumPad3: Fast Construction
# Production
NumPad4: Super Production Speed
# Gameplay
NumPad5: Game Speed
Editor Options
# Clicked Resource Pile
Amount
# Skills
Level Animal Handling
XP Animal Handling
Level Botony
XP Botony
Level Carpentry
XP Carpentry
Level Construction
XP Construction
Level Culinary
XP Culinary
Level Intellectual
XP Intellectual
Level Marksman
XP Marksman
Level Medicine
XP Medicine
Level Melee
XP Melee
Level Mining
XP Mining
Level Smithing
XP Smithing
Level Speechcraft
XP Speechcraft
Level Tailoring
XP Tailoring