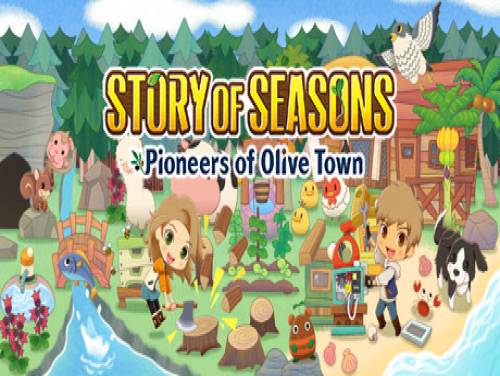 Welcome to Apocanow! This article shows the trainer of the game Story of Seasons: Pioneers of Olive Town and contains a little guide to its use in separate pages, you will also find possible walkthroughs and cheats of the game.
If you know other material about the trainer and you can improve this guide, we would be happy to know the details. Contact us! You will help all users who are looking for a good guide made for this topic.
For Story of Seasons: Pioneers of Olive Town we also have cheats available. You will find a collection of cheat codes and unlockables that will allow you to overcome any obstacle on the Story of Seasons: Pioneers of Olive Town cheats page.
The long-awaited brand new entry in the original farm / life simulation franchise, known in Japan as Bokujo Monogatari, makes its debut on Nintendo Switch, bringing players more freedom than ever before to shape an untamed wilderness and customize their farm down to the very tile. A new cast of marriage candidates, a town that grows and thrives along with your farm, and a request system highlight the new features, all while retaining the core elements of the Story of Seasons series. Finding Earth Sprites while exploring your farmland may lead you to mysterious, fantastical lands such as gardens where the seasons never change, an island in the sky, or even the inside of a volcano!
After this introduction to the game, here is the trainer we promised you. You can see the guide and download the trainer on your PC.
Download Trainer
This trainer adds the following cheats to this game:
Infinite Health
Change Money
Change Koro Coins
Freeze Time Of Day
Unlimited Water
Change Quantity
Unlimited Item Usage
Instant Harvest
Instant Chop
Instant Tree Growth
EXP Multiplier
Super Speed
Edit: Money
Edit: Koro Coin
Edit: Koropon Point
Edit: Soil Level
Edit: Home Upgrade Level
Edit: Bridge Upgrade Level
Edit: Land Slide Upgrade Level
Edit: Suspension Bridge Upgrade Level
Edit: Tunnel Upgrade Level
Edit: Ladder Upgrade Level
Edit: Rock Upgrade Level
Edit: Road Upgrade Level
Edit: Motion
Edit: Voice
Edit: Gender
Edit: Birth Month
Edit: Birth Day
Edit: Bag Expansion Level
Edit: ID
Edit: Quantity
Edit: Quality
Edit: Level
Edit: EXP




Respect of the Copyright

The software you are about to download was not created by Apocanow. However, we have permission to publish and publicize by its authors Story of Seasons: Pioneers of Olive Town: Trainer - Original. The file you are about to download is virus free, even if sometimes your antivirus can trigger for a false positive.
Activating this trainer
If not state otherwise below, press F1 at main menu.
Listen for 'Trainer Activated'.
Press desired hotkey. All hotkeys can be changed on the trainer.
Promo Options
NumPad2: Change Money
NumPad4: Freeze Time Of Day
Separator: Super Speed
Player: Money
Trainer Options
# Player
NumPad1: Infinite Health
NumPad2: Change Money
NumPad3: Change Koro Coins
NumPad4: Freeze Time Of Day
NumPad5: Unlimited Water
# Items
NumPad6: Change Quantity
NumPad7: Unlimited Item Usage
# Crops
NumPad8: Instant Harvest
# Trees
NumPad9: Instant Chop
Multiply: Instant Tree Growth
# Skills
Add: EXP Multiplier
# Game
Subtract: Super Speed
Editor Options
# Player
Money
Koro Coin
Koropon Point
Soil Level
Home Upgrade Level
Bridge Upgrade Level
Land Slide Upgrade Level
Suspension Bridge Upgrade Level
Tunnel Upgrade Level
Ladder Upgrade Level
Rock Upgrade Level
Road Upgrade Level
Motion
Voice
Gender
Birth Month
Birth Day
Bag Expansion Level
# Selected Item
ID
Quantity
Quality
# Selected Skill
Level
EXP