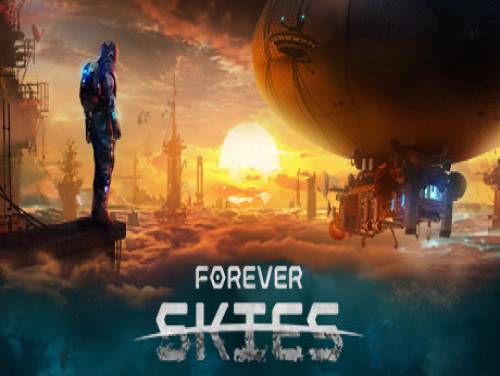 Welcome to the article regarding the trainer of Forever Skies. On this page you will also find a guide that will allow you to activate all the cheats connected to this trainer.
If you know anything else relevant to the topic do not hesitate to contact us, you will make it more complete and more useful to all visitors.
Do you want to get out of the box? We have cheats for Forever Skies. See the Forever Skies cheats page. You will find all the cheats,cheat codes, unlockables and objectives with the explanation on how to overcome them.
Forever Skies is a first person post-apocalyptic survival game.Return to Earth, devastated by an ecological disaster.Fly, upgrade and customize your mobile high-tech airship base.Gather resources to survive, face dangers above ground, and hunt down viral pathogens to cure a mysterious disease.
And now, finally, the long-awaited trainer for this game: download it, and after reading the user guide, activate it and you will be able to use all the cheats promised while playing.
Download Trainer
This trainer adds the following cheats to this game:
Unlimited Energy
Unlimited Stamina
Unlimited Health
No Hunger
No Thirst
x2 Item Gain
Unlimited Items
Increase Player Speed
Decrease Player Speed
Set Normal Player Speed
Increase Jump Height
Decrease Jump Height
Set Normal Jump Height
Decrease Gravity
Increase Gravity
Set Normal Gravity
Decrease Enemy Speed
Increase Enemy Speed
Freeze Enemies
Set Normal Enemy Speed
Save Position Slot 1
Save Position Slot 2
Save Position Slot 3
Save Position Slot 4
Save Position Slot 5
Restore Position Slot 1
Restore Position Slot 2
Restore Position Slot 3
Restore Position Slot 4
Restore Position Slot 5
Game Speed




Respect of the Copyright

The software you are about to download was not created by Apocanow. However, we have permission to publish and publicize by its authors Forever Skies: Trainer. The file you are about to download is virus free, even if sometimes your antivirus can trigger for a false positive.
Activating this trainer
If not state otherwise below, press F1 at main menu.
Listen for 'Trainer Activated'.
Press desired hotkey. All hotkeys can be changed on the trainer.
Trainer Options
# Player
NumPad1: Unlimited Energy
NumPad2: Unlimited Stamina
NumPad3: Unlimited Health
NumPad4: No Hunger
NumPad5: No Thirst
NumPad6: x2 Item Gain
NumPad7: Unlimited Items
NumPad8: Increase Player Speed
NumPad9: Decrease Player Speed
Multiply: Set Normal Player Speed
Add: Increase Jump Height
Subtract: Decrease Jump Height
Decimal: Set Normal Jump Height
Divide: Decrease Gravity
F1: Increase Gravity
F2: Set Normal Gravity
# Enemies
F3: Decrease Enemy Speed
F4: Increase Enemy Speed
F5: Freeze Enemies
F6: Set Normal Enemy Speed
# Teleport
F7: Save Position Slot 1
F8: Save Position Slot 2
F9: Save Position Slot 3
F10: Save Position Slot 4
F11: Save Position Slot 5
F12: Restore Position Slot 1
F13: Restore Position Slot 2
F14: Restore Position Slot 3
F15: Restore Position Slot 4
F16: Restore Position Slot 5
# Misc
F17: Game Speed