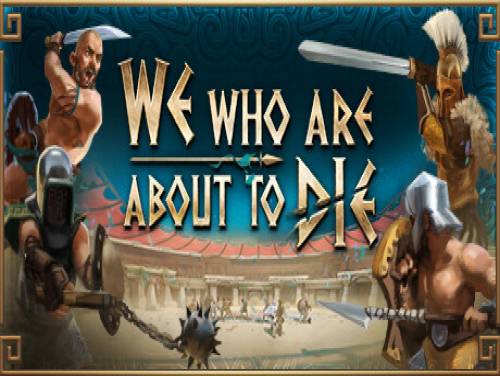 We are pleased to present you this article dedicated to the trainer of We Who Are About To Die. Here are all the resources that our staff have found.
If you know other material about the trainer and you can improve this guide, we would be happy to know the details. Contact us! You will help all users who are looking for a good guide made for this topic.
Not only the trainer! For you there are also cheats and cheat codes of We Who Are About To Die. In the appropriate We Who Are About To Die cheats page there are paragraphs dedicated to how to cheat with this game, and to unlock unpublished game modes, in addition to the list of achievements and how to get them.
Fight and fight your way through shows and arenas: rise from lowly slave to great champion and earn your freedom.Or... die trying.This Gladiator RPG Roguelite features in-depth career management and unique physics-simulated combat system.To those who are about to die, I salute you!
And now, finally, the long-awaited trainer for this game: download it, and after reading the user guide, activate it and you will be able to use all the cheats promised while playing.
Download Trainer
This trainer adds the following cheats to this game:
Unlimited Health
Unlimited Stamina
Game Speed
Edit: Coin
Edit: Fame
Edit: Current Health
Edit: Max Health
Edit: Training Tickets
Edit: Gold Investment
Edit: Joridus Favor
Edit: Alluora Favor
Edit: Valerius Favor
Edit: Mazza Favor
Edit: 1H Sword
Edit: 1H Axe
Edit: 1H Mace
Edit: 2H Sword
Edit: 2H Axe
Edit: 2H Mace
Edit: Spear
Edit: Polearm
Edit: Shield
Edit: Stamina
Edit: Max Stamina
Edit: Type 1
Edit: Type 2
Edit: Type 3
Edit: Type 4
Edit: Type 5
Edit: Type 6
Edit: Type 7
Edit: Type 8




Respect of the Copyright

The software you are about to download was not created by Apocanow. However, we have permission to publish and publicize by its authors We Who Are About To Die: Trainer - v0.1. The file you are about to download is virus free, even if sometimes your antivirus can trigger for a false positive.
Activating this trainer
If not state otherwise below, press F1 at main menu.
Listen for 'Trainer Activated'.
Press desired hotkey. All hotkeys can be changed on the trainer.
Trainer Options
# Player
NumPad1: Unlimited Health
NumPad2: Unlimited Stamina
# Gameplay
NumPad3: Game Speed
Editor Options
# Currency
Coin
Fame
# Player Stats
Current Health
Max Health
# Training and Investment
Training Tickets
Gold Investment
# Favor
Joridus Favor
Alluora Favor
Valerius Favor
Mazza Favor
# Proficiency
1H Sword
1H Axe
1H Mace
2H Sword
2H Axe
2H Mace
Spear
Polearm
Shield
Stamina
Max Stamina
# Bracket Levels
Type 1
Type 2
Type 3
Type 4
Type 5
Type 6
Type 7
Type 8