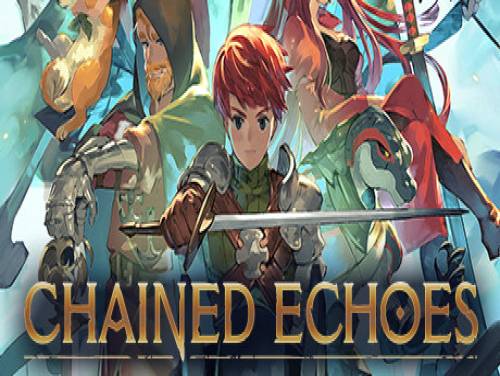 We are happy to show you the Chained Echoes trainer and the guide to its use!
If you know other material about the trainer and you can improve this guide, we would be happy to know the details. Contact us! You will help all users who are looking for a good guide made for this topic.
Wwe also have cheats for Chained Echoes! You can find them in the appropriate Chained Echoes cheats page. Inside there are paragraphs about cheats and unlockables relative to the game. If you are stuck somewhere in the game, or if you just want have more fun out of the rules, no way is better than consulting the cheats we have collected for you.
Take up your sword, channel your magic or board your Mech. Chained Echoes is a 16-bit SNES style RPG set in a fantasy world where dragons are as common as piloted mechanical suits. Follow a group of heroes as they explore a land filled to the brim with charming characters, fantastic landscapes and vicious foes. Can you bring peace to a continent where war has been waged for generations and betrayal lurks around every corner? Chained Echoes is a story-driven game where a group of heroes travel around the vast continent of Valandis to bring an end to the war between its three kingdoms. In the course of their journey, they will travel through a wide array of diverse landscapes spanning from wind-tanned plateaus and exotic archipelagos to sunken cities and forgotten dungeons.
And now, finally, the long-awaited trainer for this game: download it, and after reading the user guide, activate it and you will be able to use all the cheats promised while playing.
Download Trainer
This trainer adds the following cheats to this game:
Unlimited Health
Unlimited TP
Unlimited ATK
Unlimited Mag
Unlimited Def
Unlimited MND
Unlimited TEC
Unlimited VIT
Unlimited AGI
Unlimited ACC
Unlimited EVA
Unlimited CRIT
Unlimited Money
1 Hit Kill
Game Speed




Respect of the Copyright

The software you are about to download was not created by Apocanow. However, we have permission to publish and publicize by its authors Chained Echoes: Trainer. The file you are about to download is virus free, even if sometimes your antivirus can trigger for a false positive.
Activating this trainer
If not state otherwise below, press F1 at main menu.
Listen for 'Trainer Activated'.
Press desired hotkey. All hotkeys can be changed on the trainer.
Trainer Options
# Player
NumPad1: Unlimited Health
NumPad2: Unlimited TP
NumPad3: Unlimited ATK
NumPad4: Unlimited Mag
NumPad5: Unlimited Def
NumPad6: Unlimited MND
NumPad7: Unlimited TEC
NumPad8: Unlimited VIT
NumPad9: Unlimited AGI
Multiply: Unlimited ACC
Add: Unlimited EVA
Subtract: Unlimited CRIT
Decimal: Unlimited Money
# Enemies
Divide: 1 Hit Kill
# Misc
F1: Game Speed