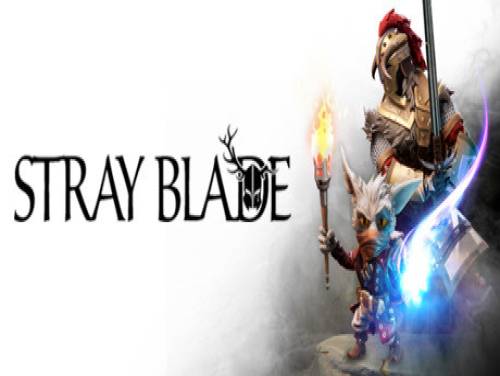 Hello and welcome to Apocanow, we present the article about the Trainer of Stray Blade. We hope it will allow you to improve your experience with this game.
Are you able to improve this guide? We would be really happy to know how, so we can create a better article, updating it with your advices.
Available on this site are also the cheats of Stray Blade: codes and strategies inside the page will allow you to get to the end of the game without any problem overcoming any kind of obstacle. Check now our official page dedicated to Stray Blade cheats.
Stray Blade is an Action Adventure where you will be an adventurer who explores the ancient valley of Acrea together with the wolf xhinnon Boji.He unravels the valley's past and harnesses the powers of the three Acrean metals to restore peace to a land ravaged by war.
And now, finally, the long-awaited trainer for this game: download it, and after reading the user guide, activate it and you will be able to use all the cheats promised while playing.
Download Trainer
This trainer adds the following cheats to this game:
Invulnerable
Unlimited Health
Unlimited Stamina
Unlimited EXP
Easy Craft
Unlimited Inventory Craft Items
Unlimited Bone Dust
Unlimited Skill Points
Increase Player Speed
Decrease Player Speed
Set Normal Player Speed
Increase Jump Height
Decrease Jump Height
Set Normal Jump Height
Decrease Gravity
Increase Gravity
Set Normal Gravity
Easy Kills
Decrease Enemy Speed
Increase Enemy Speed
Freeze Enemies
Set Normal Enemy Speed
Save Position Slot 1
Save Position Slot 2
Save Position Slot 3
Save Position Slot 4
Save Position Slot 5
Restore Position Slot 1
Restore Position Slot 2
Restore Position Slot 3
Restore Position Slot 4
Restore Position Slot 5
Game Speed
Edit: EXP
Edit: EXP Multiplier
Edit: Bone Dust
Edit: Skill Point
Edit: Resource Multplier
Edit: Current Item
Edit: Iron
Edit: Straps
Edit: Leather
Edit: Claws
Edit: Teeth
Edit: Armor Parts
Edit: Arcean Stones
Edit: Sensilla
Edit: Intium
Edit: Bandage Weed




Respect of the Copyright

The software you are about to download was not created by Apocanow. However, we have permission to publish and publicize by its authors Stray Blade: Trainer - 04/23/23. The file you are about to download is virus free, even if sometimes your antivirus can trigger for a false positive.
Activating this trainer
If not state otherwise below, press F1 at main menu.
Listen for 'Trainer Activated'.
Press desired hotkey. All hotkeys can be changed on the trainer.
Trainer Options
# Player
NumPad1: Invulnerable
NumPad2: Unlimited Health
NumPad3: Unlimited Stamina
NumPad4: Unlimited EXP
NumPad5: Easy Craft
NumPad6: Unlimited Inventory Items
NumPad7: Unlimited Bone Dust
NumPad8: Unlimited Skill Points
# Player Speed
NumPad9: Increase Player Speed
Multiply: Decrease Player Speed
Add: Set Normal Player Speed
# Player Jump
Subtract: Increase Jump Height
Decimal: Decrease Jump Height
Divide: Set Normal Jump Height
# Player Movement
F1: Decrease Gravity
F2: Increase Gravity
F3: Set Normal Gravity
# Enemy
F4: Easy Kills
F5: Decrease Enemy Speed
F6: Increase Enemy Speed
F7: Freeze Enemies
F8: Set Normal Enemy Speed
# Teleport
F9: Save Position Slot 1
F10: Save Position Slot 2
F11: Save Position Slot 3
F12: Save Position Slot 4
F13: Save Position Slot 5
F14: Restore Position Slot 1
F15: Restore Position Slot 2
F16: Restore Position Slot 3
F17: Restore Position Slot 4
F18: Restore Position Slot 5
# Game
F19: Game Speed