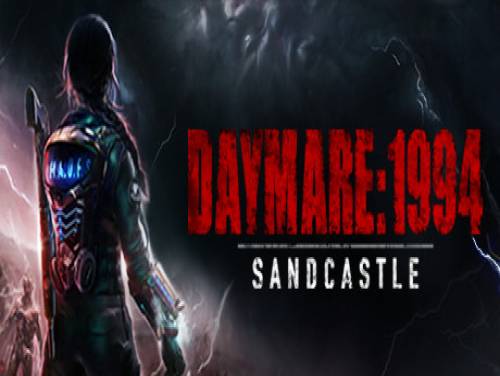 Welcome to our website. you are into the Daymare: 1994 Sandcastle trainer page. Without too many premises let's describe this article!
If you have ideas to make this guide better, contact us now and we will be happy to post your things on this page.
Together with the trainer we can also provide you with cheats for this game. Enter into the Daymare: 1994 Sandcastle cheats page and you will find all the cheats and unlockables to easily finish the game and, often, even a small guide to the collectibles of the game.
Together with the trainer we can also provide you with the walkthrough of this game in the form of a video guide. Enter into the Daymare: 1994 Sandcastle walkthrough page and you will be able to find a step by step guide to finish the game and to discover some game secrets.
Daymare: 1994 Sandcastle is a third-person story-driven survival horror game, prequel to the acclaimed Daymare: 1998. You take on the role of special agent Dalila Reyes, a former government spy now serving the H.A.D.E.S. unit.
After this introduction to the game, here is the trainer we promised you. You can see the guide and download the trainer on your PC.
Download Trainer
This trainer adds the following cheats to this game:
Unlimited Health
No Reload
Freeze Hacking Timer
Unlimited Frostbite
Increase Player Speed
Decrease Player Speed
Set Normal Player Speed
Decrease Enemy Speed
Increase Enemy Speed
Freeze Enemies
Set Normal Enemy Speed
Save Position Slot 1
Save Position Slot 2
Save Position Slot 3
Save Position Slot 4
Save Position Slot 5
Restore Position Slot 1
Restore Position Slot 2
Restore Position Slot 3
Restore Position Slot 4
Restore Position Slot 5
Game Speed




Respect of the Copyright

The software you are about to download was not created by Apocanow. However, we have permission to publish and publicize by its authors Daymare: 1994 Sandcastle: Trainer - V2. The file you are about to download is virus free, even if sometimes your antivirus can trigger for a false positive.
Activating this trainer
If not state otherwise below, press F1 at main menu.Listen for 'Trainer Activated'.Press desired hotkey. All hotkeys can be changed on the trainer.
Trainer Options
# PlayerNumPad1: Unlimited HealthNumPad2: No ReloadNumPad3: Increase Player SpeedNumPad4: Decrease Player SpeedNumPad5: Set Normal Player SpeedNumPad6: Decrease Enemy SpeedNumPad7: Increase Enemy SpeedNumPad8: Freeze EnemiesNumPad9: Set Normal Enemy SpeedMultiply: Save Position Slot 1Add: Save Position Slot 2Subtract: Save Position Slot 3Decimal: Save Position Slot 4Divide: Save Position Slot 5F1: Restore Position Slot 1F2: Restore Position Slot 2F3: Restore Position Slot 3F4: Restore Position Slot 4F5: Restore Position Slot 5F6: Game Speed