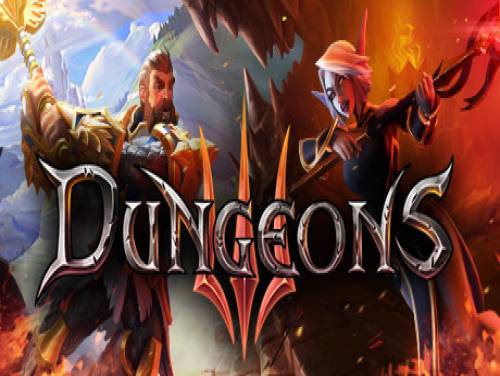 We are happy to show you the Dungeons 3 trainer and the guide to its use!
We hope that at the end of the reading you will appreciate the work we have done.
For Dungeons 3 we also have cheats available. You will find a collection of cheat codes and unlockables that will allow you to overcome any obstacle on the Dungeons 3 cheats page.
In the end the lord of the underground has done to bring together the forces of evil and establish his dark empire. Now is the time to move on to the next phase of his diabolical plan: the expansion!
And now, finally, the long-awaited trainer for this game: download it, and after reading the user guide, activate it and you will be able to use all the cheats promised while playing.
Download Trainer
This trainer adds the following cheats to this game:
Add Gold
Add Mana
Add Evil
Reveal Map
Research All
Toggle GUI
Win Current Mission
Spawn All Monsters
Spawn Super Monster
Spawn Random Hero
Invincible Units
Why do you have to pay for some trainers and cheats?
Actually it is very rare to find games containing cheats because game developers are not interested at keeping them in their games. So the creation of cheats is executed by external programmers that spend their time and skills into the creation of trainers, programs that let you cheat on a particular game. They do it for passion or for money. Whatever the motivation, it's right to reward them for the time spent on their work.
Paid Cheats and Trainers are better in quality, contains more functionalities. They are maintained and supported by their developers.
Respect of the Copyright
The software you are about to download was not created by Apocanow. However, we have permission to publish and publicize by its authors Dungeons 3 Trainer - v1.5.6. The file you are about to download is virus free, even if sometimes your antivirus can trigger for a false positive.
Activating this trainer
Press F1 at main menu.
Listen for 'Trainer Activated'.
Press desired hotkey. All hotkeys can be changed on the trainer.
Trainer Options
NumPad1: Add Gold
NumPad2: Add Mana
NumPad3: Add Evil
NumPad4: Reveal Map
NumPad5: Research All
NumPad6: Toggle GUI
NumPad7: Win Current Mission
NumPad8: Spawn All Monsters
NumPad9: Spawn Super Monster
NumPad0: Spawn Random Hero
NumPad/: Invincible Units
Notes
Trainer activation may take a little bit longer on this game.
Be patience and wait for 'Trainer activated' sound.
Add Gold / Mana / Evil:
Press hotkey to add more of it.
Reveal Map:
Press hotkey and the map is fully revealed.
Research All:
Press hotkey and everything has been researched.
Win Current Mission:
Press hotkey to instantly win the current mission.
Spawn All Monsters:
Press hotkey to spawn all monsters at the current viewed location.
There needs to be room for them to spawn.
Spawn Super Monster:
Similar to spawn all monster cheat but spawns a super monster which is
incredible powerful.
Spawn Random Hero:
Similar to spawn all monster but spawns a random hero.
Invincible Units:
During mission / ingame press hotkey and all of your current units are invincible.
This cannot be deactivated except of restarting the mission.
Mute Hotkeys:
To temporarily disable the Hotkeys, press CTRL-H after trainer is
activated. You can use CTRL-H to re-activate the Hotkeys as well.
You can also mute specific hotkeys by changing the hotkey you want to mute to 'NONE'.
VR Mode
- HTC Vive
Click on the 'VR Mode' button. Trainer options will now be drawn as buttons. Activate the trainer as usual with your keyboard. Put your HTC Vive on and when you are ingame press the 'Menu' button on the hand controllers to open the steam overlay. At the bottom you can click on the 'Desktop' button and you can easily press options on the trainer with your hand controller now.
- Oculus Rift
As of now the oculus has no unique input device and uses keyboard or xbox controller. Both are support by the trainer already.