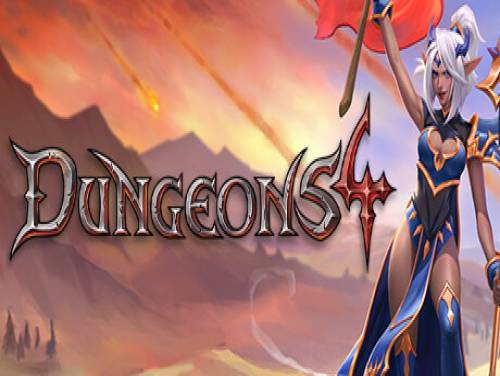 We are happy to show you the Dungeons 4 trainer and the guide to its use!
If you have ideas to make this guide better, contact us now and we will be happy to post your things on this page.
Available on this site are also the cheats of Dungeons 4: codes and strategies inside the page will allow you to get to the end of the game without any problem overcoming any kind of obstacle. Check now our official page dedicated to Dungeons 4 cheats.
Absolute Evil and his trusted servant, the dark elf Thalya, return in Dungeons 4 after the events of his fabulous predecessor to once again tell of their triumph over the forces of good.
Thank you for reading this brief introduction. Now let's show you the guide to the trainer and the button to download it.
Download Trainer
This trainer adds the following cheats to this game:
Infinite Health
No Skill Cooldown
Fill Gold
Fill Evilness
Edit: Current Gold
Edit: Maximum Gold
Edit: Global Current Gold
Edit: Global Maximum Gold
Edit: Current Evilness
Edit: Maximum Evilness
Edit: Global Current Evilness
Edit: Global Maximum Evilness




Respect of the Copyright

The software you are about to download was not created by Apocanow. However, we have permission to publish and publicize by its authors Dungeons 4: Trainer - 1.0.7 V2. The file you are about to download is virus free, even if sometimes your antivirus can trigger for a false positive.
Activating this trainer
If not state otherwise below, press F1 at main menu.Listen for 'Trainer Activated'.Press desired hotkey. All hotkeys can be changed on the trainer.
Trainer Options
# PlayerNumPad1: Infinite HealthNumPad2: No Skill CooldownNumPad3: Fill GoldNumPad4: Fill Evilness
Editor Options
# PlayerCurrent GoldMaximum GoldGlobal Current GoldGlobal Maximum GoldCurrent EvilnessMaximum EvilnessGlobal Current EvilnessGlobal Maximum Evilness
Notes
Note: If you modify gold or evilness yourself do NOT set it higher or EQUAL than your maximum. Or your minions act like they stuck. The number of gold or evilness in the game won't change if you use the cheats UNTIL you get or spend gold/evilness. This is why its important that your current value is less than maximum.No Skill Cooldown:Activate this before using a skillFill Gold:Press hotkey to refill gold then spend gold or let your minions collect gold.Fill Evilness:Press hotkey to refill evilness then spend evilness or let your minions collect evilness.