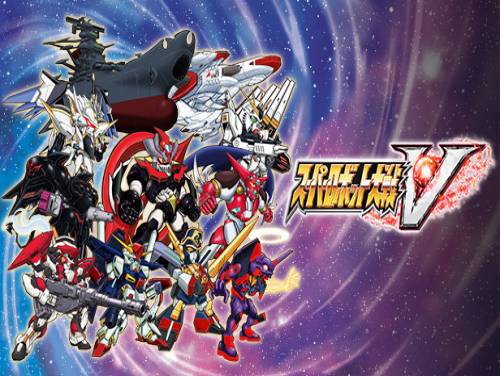 Hello and welcome to Apocanow, we present the article about the Trainer of Super Robot Wars V. We hope it will allow you to improve your experience with this game.
If you know other material about the trainer and you can improve this guide, we would be happy to know the details. Contact us! You will help all users who are looking for a good guide made for this topic.
We also have cheats for Super Robot Wars V! In our Super Robot Wars V cheats page you will find codes and unlockable to overcome all obstacles and arrive without any worries at the end of the game.
As with previous titles in the series, Super Robot Wars V is a role-playing game with tactical elements of a narrative and uses the same graphics engine seen in the 3rd Super Robot Wars Z, but with an inclusion of a map of the isometric 3d unlike its predecessor. Like other games, it follows the same basic structure: when you start a phase, the character receives a dialogue intro between playable characters, leading to the scenario on the field of battle. To complete a scenario, the player must achieve the objectives of the scenario.
Once all the premises have been completed, we will show you the promo trainer we have recovered and the guide written specifically for us by the authors of the program.
Download Trainer
This trainer adds the following cheats to this game:
Infinite Health
Infinite SP
Infinite EN
Weak Enemies
Unlimited Ammo
Maximum Movement Range For Player
Low Movement Range For Enemies
One Hit Kills
XP Multiplier
Change Money
Change TacP
Change SR Points
Edit: Money
Edit: Money Gathered
Edit: TacP
Edit: TacP Gathered
Edit: SR Points
Edit: SR Points Gathered
Why do you have to pay for some trainers and cheats?
Actually it is very rare to find games containing cheats because game developers are not interested at keeping them in their games. So the creation of cheats is executed by external programmers that spend their time and skills into the creation of trainers, programs that let you cheat on a particular game. They do it for passion or for money. Whatever the motivation, it's right to reward them for the time spent on their work.
Paid Cheats and Trainers are better in quality, contains more functionalities. They are maintained and supported by their developers.
Respect of the Copyright
The software you are about to download was not created by Apocanow. However, we have permission to publish and publicize by its authors Super Robot Wars V Trainer - vORIGINAL. The file you are about to download is virus free, even if sometimes your antivirus can trigger for a false positive.
Activating this trainer
If not state otherwise below, press F1 at main menu.
Listen for 'Trainer Activated'.
Press desired hotkey. All hotkeys can be changed on the trainer.
Promo Options
Multiply: Change Money
Player: Money
Player: Money Gathered
Trainer Options
# Player
NumPad1: Infinite Health
NumPad2: Infinite SP
NumPad3: Infinite EN
NumPad4: Weak Enemies
NumPad5: Unlimited Ammo
NumPad6: Maximum Movement Range For Player
# Enemies
NumPad7: Low Movement Range For Enemies
NumPad8: One Hit Kills
# Misc
NumPad9: XP Multiplier
# Values
Multiply: Change Money
Add: Change TacP.
Separator: Change SR Points
Editor Options
# Player:
Money
Money Gathered
TacP.
TacP. Gathered
SR Points
SR Points Gathered
Notes
XP Multiplier:
While active your gained EXP is increased by 4 which can be customized after trainer activation.