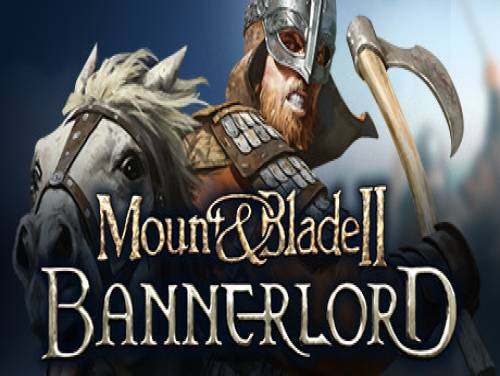 Hello! We are pleased to have you here on our website. This page shows the trainer and its user guide for Mount & Blade II: Bannerlord.
If you have managed to find other items to be added, do not hesitate to send them in. We will add them to those already existing.
Not only the trainer! For you there are also cheats and cheat codes of Mount & Blade II: Bannerlord. In the appropriate Mount & Blade II: Bannerlord cheats page there are paragraphs dedicated to how to cheat with this game, and to unlock unpublished game modes, in addition to the list of achievements and how to get them.
Sound the horns, circling crows. The civil war that tears the empire. New kingdoms arise beyond its borders. Holding the sword, wearing armor, rally the troops and put glory on the battlefields of Calradia. Consolidate your power and create a new world from the ashes of the previous.
After this introduction to the game, here is the trainer we promised you. You can see the guide and download the trainer on your PC.
Download Trainer
This trainer adds the following cheats to this game:
Collect Player and Horse Combat Values
Unlimited Player Health Combat
Unlimited Player Horse Health Combat
Collect Player Weapons and Gear
Unlimited Weapons and Gear Durability
Collect Team and Enemy Armies
Unlimited Player Team Health Combat
Super Damage Enemy Team Combat
Unlimited Ammo Arrows and Spears
Collect Gold Lvl HP Attributes and Focus on Map
Collect Influence on Map
Collect Food Stores on Map
Collect Morale Level on Map
XP Multiplier
Collect Skills Levels in Character Screen
Collect Skills XP in Character Screen
Collect Attributes Levels in Character Screen
No Encumberance (leave OFF for Arena)
Massive Inventory Capacity
Freeze Time Of Day
Collect Party Travel Info on Map
Slow Down Non Player Characters on Map
Increased Party Visual Range on Map
Easy Barter
Unlimited Shop or Transfer Items
Forge Costs No Charcoal
Easy Forge
Allow Forge of Locked Items
Unlimited Forging Stamina
Collect Clan Reknown
Collect Weapon Data for Editor
Collect Armor Data for Editor
Game Speed
Edit: Gold
Edit: Influence
Edit: Food
Edit: Morale
Edit: Current Level
Edit: Current HP on Map
Edit: Attribute Points
Edit: Focus Points
Edit: Party Movement Speed on Map
Edit: VIG
Edit: CTR
Edit: END
Edit: CNG
Edit: SOC
Edit: INT
Why do you have to pay for some trainers and cheats?
Actually it is very rare to find games containing cheats because game developers are not interested at keeping them in their games. So the creation of cheats is executed by external programmers that spend their time and skills into the creation of trainers, programs that let you cheat on a particular game. They do it for passion or for money. Whatever the motivation, it's right to reward them for the time spent on their work.
Paid Cheats and Trainers are better in quality, contains more functionalities. They are maintained and supported by their developers.
Respect of the Copyright
The software you are about to download was not created by Apocanow. However, we have permission to publish and publicize by its authors Mount & Blade II: Bannerlord: Trainer - Native e1.4.2.235840. The file you are about to download is virus free, even if sometimes your antivirus can trigger for a false positive.
Activating this trainer
If not state otherwise below, press F1 at main menu.
Listen for 'Trainer Activated'.
Press desired hotkey. All hotkeys can be changed on the trainer.
Promo Options
F18: Game Speed
Trainer Options
# Player Combat
NumPad1: Collect Player and Horse Combat Values
NumPad2: Unlimited Player Health Combat
NumPad3: Unlimited Player Horse Health Combat
NumPad4: Collect Player Weapons and Gear
NumPad5: Unlimited Weapons and Gear Durability
NumPad6: Collect Team and Enemy Armies
NumPad7: Unlimited Player Team Health Combat
NumPad8: Super Damage Enemy Team Combat
NumPad9: Unlimited Ammo Arrows and Spears
# Player Resources
Multiply: Collect Gold Lvl HP Attributes and Focus on Map
Add: Collect Influence on Map
Separator: Collect Food Stores on Map
Subtract: Collect Morale Level on Map
# Player Progression
Decimal: XP Multiplier
Divide: Collect Skills Levels in Character Screen
F1: Collect Skills XP in Character Screen
F2: Collect Attributes Levels in Character Screen
# Player Inventory
F3: No Encumberance (leave OFF for Arena)
F4: Massive Inventory Capacity
# Player Party on Map
F5: Freeze Time Of Day
F6: Collect Party Travel Info on Map
F7: Slow Down Non Player Characters on Map
F8: Increased Party Visual Range on Map
# Trade Transfer or Barter
F9: Easy Barter
F10: Unlimited Shop or Transfer Items
# Forging
F11: Forge Costs No Charcoal
F12: Easy Forge
F13: Allow Forge of Locked Items
F14: Unlimited Forging Stamina
# Clan
F15: Collect Clan Reknown
# Item Editors
F16: Collect Weapon Data for Editor
F17: Collect Armor Data for Editor
# Gameplay
F18: Game Speed
Editor Options
# Player Resources:
Gold
Influence
Food
Morale
# Player Progression:
Current Level
Current HP on Map
Attribute Points
Focus Points
# Player Party Map:
Party Movement Speed on Map
# Player Attributes Progression:
VIG
CTR
END
CNG
SOC
INT
# Player Skills Progression:
One Handed
Two Handed
Polearms
Bow
Crossbow
Throwing
Riding
Athletics
Smithing
Tactics
Scouting
Roguery
Charm
Trade
Steward
Leadership
Medicine
Engineering
# Player Skills XP Progression:
One Handed
Two Handed
Polearms
Bow
Crossbow
Throwing
Riding
Athletics
Smithing
Tactics
Scouting
Roguery
Charm
Trade
Steward
Leadership
Medicine
Engineering
# Clan:
Clan Reknown
Clan Tier
# Weapon Editor:
Thrust Speed (keep below 200)
Swing or Shield or Bow Speed (keep below 200)
Missle Speed
Length
Thrust or Bow or Arrows Damage
Swing Damage
Bow or Arrows Accuracy
Handling
Stack Amount Arrows
# Armor Editor:
Head
Body or Horse Armor
Leg
Arm